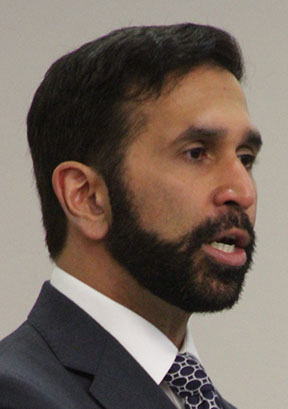 (Trinidad Express) T&T has joined the list of countries probing embattled British political consultants, Cambridge Analytica's (CA) work — and a local probe is targetting the organisation's alleged link with the past People's Partnership administration for the 2015 general election.
Attorney General Faris Al Rawi announced the moves in Parliament on Wednesday after Christopher Wylie, a former CA employee – now whistleblower – said the firm worked for the T&T government in 2013 during his testimony before the House of Commons in the UK, on Tuesday. He referenced a former national security minister and CA's monitoring of internet browsing in T&T which Wylie admitted was illegal.
"The alleged acts committed by Cambridge Analytica and its affiliates potentially constitute breaches of T&T law," Al Rawi said on Wednesday, announcing action.
Al Rawi said his office will audit all Government ministries, statutory authorities, state enterprises and the National Security Council to ascertain whether any contracts were established, whether any payments were made and whether any services were rendered by CA or any of its affiliates. Opposition Leader Kamla Persad-Bissessar, in a statement, condemned the Attorney General's claims "as a malicious, deliberate falsehood" and said she intended to file a motion of breach of parliamentary privileges against Al Rawi.
"The Attorney General's statement, by virtue of what appears to be calculated omissions and deliberate vagueness, amounted to a mischievous effort to mislead the Parliament, and by extension, the citizens of Trinidad and Tobago, in what is undoubtedly an important issue regarding their privacy rights in the uncontrolled and largely unregulated global virtual world of social media," she stated.
"The Attorney General, without providing any such names or documents or evidence, went on to put his own dubious spin on these limited allegations by Mr Wiley. With a clear intention to serve a mischievous and desperate political agenda in the wake of the massive failures and corrupt practices of his ruling Rowley regime, the Attorney General maliciously claimed, without referencing any shred of evidence in any form, that this alleged dealing was perpetrated by the "UNC politicians" and "Kamla Persad-Bissessar-led Government," the statement said.
Persad-Bissessar drew reference to an online article which stated that an affiliate company of CA did political work for the Congress of the People in 2013. Cambridge Analytica is currently under investigation in the UK for using massive amounts of data from 50 million Facebook users to formulate political advertising on the Donald Trump election campaign in the US.
Overseas media reports claimed the company used for political purposes, personal information acquired from Facebook users, by an external researcher who claimed to be collecting it for academic purposes.
Al Rawi noted "rapidly developing critical enquiries and investigations" before the British House of Commons and the US Senate Judiciary Committee into activities by CA and its affiliates.
He also cited an investigation by a coalition of 37 Attorneys General from the US and the granting of warrants by UK High Court "relating to devastatingly sinister link to the alleged illegal interference of the rights of millions of citizens in the United Kingdom and the US" all stemming from the companies' activities. "This allegedly began out of allegedly illegal data and communication mining activities in T&T in 2013," Al Rawi noted. He said the UK's Information Commissioner raided CA's London offices last week. Al Rawi noted that CA whistleblower Wylie — who helped set up CA — pinpointed T&T as the site of a data and communication mining test project allegedly conducted in 2013 under the PP government.
According to Wylie, the T&T 2013 project formed the basis for the company's subsequent activities in the UK and in the US.
Al Rawi said Wyle's testimony to the UK House of Commons revealed CA's work " was done through T&T's National Security Ministry".
Wylie was also quoted as saying "The standard SCL/Cambridge Analytica method is that you get a government contract from the ruling party. And this pays for the political work. So, it's often some project that's just a cover for getting the minister re-elected. But in this case, our government contacts were with Trinidad's National Security Council." Wylie described CA "A full-service propaganda machine."
Al Rawi said evidence in the UK this week detailed the T&T project carried out by CA affiliate – AggregateIQ – including contractual documentation. Emails from AIQ's project with the PP Government were provided, he said.
Al Rawi noted Wylie admitted that he understood data acquisition in T&T is and was illegal and that there was a "total disregard for the law."
He said Wylie's testimony imputing illegal actions against the PP Government must be taken seriously. He said T&T law prohibits interception of communication in the way Wiley described and the Computer Misuse laws prohibit unauthorised access to data. He noted in the election campaign of 2015, "There were wide-scale receipts of unsolicited personalised political messaging from entities promoting the UNC."
Al Rawi said the state-sector wide audit will particularly seek any "Masked transactions through nominated/trustee entities to hide the true identity and nature of any services provided."
Around the Web