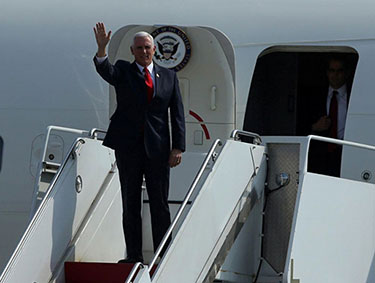 LIMA, (Reuters) – Latin American leaders met in Peru yesterday at a regional summit that was overshadowed by Washington's decision to order military strikes on Syria, prompting U.S. Vice President Mike Pence to abruptly leave the opening ceremony.
Pence had been sent to the Summit of the Americas in the capital Lima on Friday and Saturday to fill in for U.S. President Donald Trump so he could focus on the crisis in Syria.
But after arriving at the opening ceremony, Pence cut his participation short to race across town to his hotel, arriving in time to see the president announce that he had ordered "precision strikes" on Syria in retaliation for a suspected poison gas attack that killed at least 60 people on April 7.
Despite Trump's absence at the summit, U.S. officials had still sought to counter China's rising influence in the region and condemn Venezuela's government.
The official theme of this year's summit, a gathering of heads of state from the Western Hemisphere, was the fight against corruption.
But Syria, a heated trade dispute between the United States and China and a widely-criticized election in Venezuela loomed over the meetings.
Earlier yesterday, Pence met with Venezuelan opposition leaders and announced $16 million in aid to help Venezuelan migrants who have fled a "man-made" economic crisis.
Earlier in the day Pence's office announced he would meet with Mexico's President Enrique Pena Nieto on Saturday as the U.S., Mexico and Canada appear to be moving towards a deal on renegotiating the North American Free Trade Agreement (NAFTA).
Around the Web