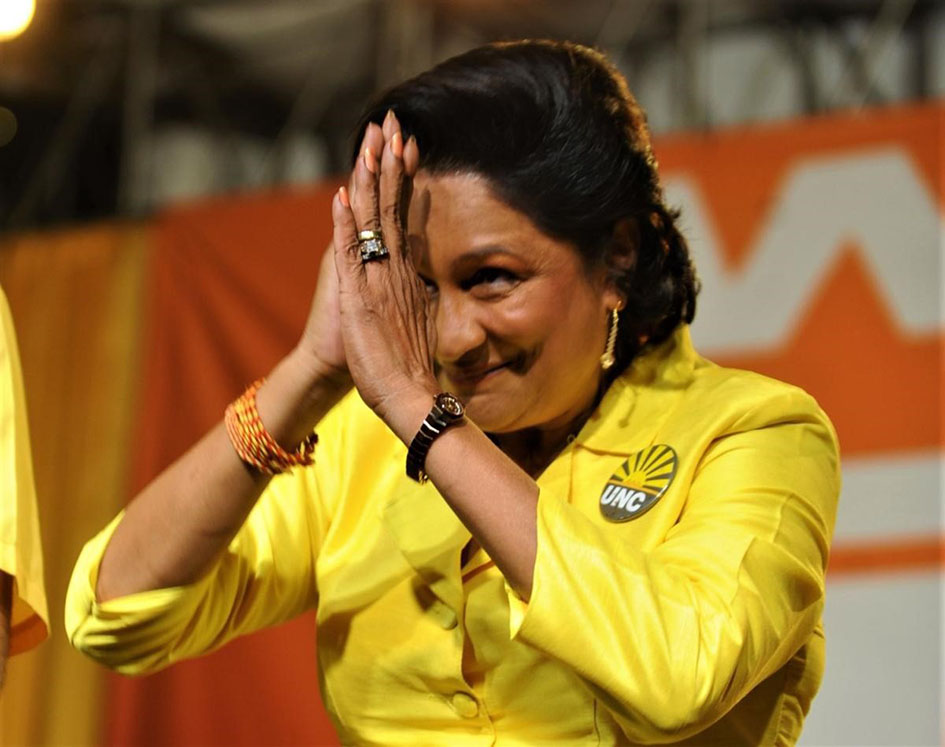 (Trinidad Express) A debate on Opposition Leader Kamla Persad-Bissessar's description of Prime Minister Dr Keith Rowley as an "oreo" continues to be the centre of debate on social media.
Some are of the view that Persad-Bissessar should apologise for her comment while others believe that Rowley has said worse and remains unapologetic.
Several former Government members of the People's Partnership Government have taken to their Facebook pages to criticise Persad-Bissessar.
Former Minister of the Arts and Multiculturalism Dr. Lincoln Douglas was of the view that Persad-Bissessar should apologise.
He posted "What is it with politicians, being one myself. Why wouldn't Kamla apologise? Whats with the Trumpism? doubling down on stupidity? It's one thing to be stupid, it's another thing to remain stupid after you've been shown the light. My comments are the same as it was for Keith Rowley and the Sari Skit fiasco. Apologize! The oreo thing is a racist comment. I lived in the States for 14 yrs, so i know. It means you look black on the outside but really you are white on the inside , meaning your thoughts and inner feelings, which is the point Kamla was making. But when you use the metaphor it invokes the pain of history. So apologise Kamla and then you'll be bigger than you are right now, But probably you've lost the opportunity, because you take too long, Or probably you're following Basdeo Panday's "any press is good press" or Roger Stone's of Donald Trump, "it is better to be infamous than unnoticed." But we can't afford it Kamla and Rowley. You all have proven yourself to be two sides of the same coin. We need better from our leaders. We need people to bring the nation together not continuing to force a divide. We need leaders who can point the way forward not going into the past and dredging up pain. We need leaders who can teach us to overcome tragedy not shut us down with doom. Come on leaders, if that is what you think of yourself, it is time to relegate this opposition politics to the dump heap of history and forge a new alliance for the building of Trinidad and Tobago,".
Former Transport Minister Stephen Cadiz also joined the debate stating "What in God's name got into the LOTO (leader of the Opposition)? The 'Oreo' statement was downright racist like the 'Calcutta Ship'. Two wrongs simply do not make it right!".
Former Trade Minister Vasant Bharath had stated "Calling Dr.Rowley an 'Oreo' is a distasteful and racist remark and must be roundly rejected,".
Others felt it was much ado about nothing.
Former Minister of State in the Ministry of Gender Affairs, Youth and Child Development stated "Hospitals shutting down, refinery mash up & people in UPROAR over an "oreo"?"
Meanwhile, some current Opposition members have been circulating the position taken by David Muhammad, an Eastern Caribbean Representative at Nation of Islam.
He stated "Opposition Leader Kamla Persad Bissessar referring to Prime Minister Dr, Keith Rowley as an "Oreo" was culturally inappropriate and socially unacceptable, but not necessarily racist. This is a term used by black people to call upon other black people to check their state of race consciousness, appreciation, loyalty and service to their own black people and community. It is politically incorrect for a non-African to call an African by this term in most circumstances, but again I reiterate that it is not racist.
For example, when someone is called a (the-word) it is associated with a condemnation of them being black. But when someone is called an "Oreo" it is understood to be a condemnation of them 'not being black enough.' I am therefore of the view that the PNM made an unstrategic tactical error in raising this 'oreo issue' because all that they did was redirect the spotlight back on Dr. Rowley and have the society examine how grounded he is in his own grassroots African community in comparison to how close he is perceived to be with the local whites, Syrians and French Creoles. They have placed our prime minister under the microscope to evaluate his track record to determine if the statement has any truth in it. And this might not be a conversation that the PNM may want to have at this time. So the statement was socially unacceptable in the same way it would be, for example, if an African person calls an Indian person a "Nemakaram."
Finally, the irony of this is that African people who are actually 'oreos' are more likely to be favoured by other races in a cosmopolitan society as there is often fear of and apprehension against conscious African people who are proud to be black and represent blackness. So if Dr. Rowley was that kind of black man he may have been condemned even more by the same people who are calling him an oreo today".
Around the Web