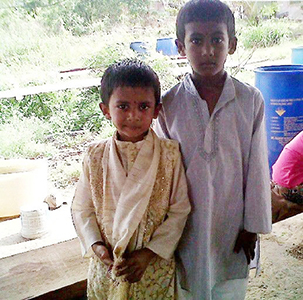 (Trinidad Express) Narad Motilal, the eight-year-old boy who survived the toxic smoke inhalation that killed his brother, will be discharged from hospital in time to attend the funeral today.
Doctors have agreed to send the child home to say a final goodbye, relatives said.
Little Narad has been asking for his older brother, Shalma, who died from toxic inhalation on Thursday.
His uncle, Krishna Motilal, said, "He is small so he does not really understand what has happened. He is asking for his brother because they were very close. He wants to come home to see his brother. His parents asked the doctor and Narad would be allowed to attend the funeral to say goodbye."
Motilal said his nephew's death was heart-breaking. "This is something no parent should have to go through. The child's parents are not doing so well. His mother is devastated. Everyone is still in shock. This death was so unbelievable," he said.
Shalma Motilal, nine, would be laid to rest following a funeral service at his family's home today.
His parents have planned a special send off for the elder child. Pupils of the Ortoire RC School, where he attended, would deliver a tribute to their classmate.
"This is a really difficult time for everyone. No one expected this. Monday is going to be a hard day for us," his uncle said.
Doctors said Narad is expected to recover fully from the poisoning. But his relatives are concerned that he may not be able to come to terms with losing his older brother.
Shalma Motilal, nine, died in his bedroom from toxic inhalation, an autopsy found on Friday.
The brothers were found unresponsive in their bedroom at Manzanilla on Thursday morning.
Parents Sudesh and Salisha Motilal rushed the boys to the Mayaro Health Centre but Shalma was pronounced dead on arrival.
Narad was transferred to the Sangre Grande Hospital.
Police have classified the child's death as accidental.
The family live at Kernaham Village, Manzanilla.
Police said the brothers, both pupils of the Ortoire RC School, went to bed at around 8 p.m. on Wednesday. Shortly after, the electricity went and their parents lit a mosquito coil in the bedroom.
A fire was also started at the back of the house to ward off mosquitoes. The boys' bedroom is at the back of the house near to where the fire was lit.
Police said the boys were found unresponsive in their bed at around 6.15 a.m.
Salisha Motilal, 39, had gone to wake her sons for school when she found them.
Around the Web