(TRINIDAD GUARDIAN) Eye­wit­ness­es to to­day's brazen rob­bery of a G4S Se­cu­ri­ty ar­moured ve­hi­cle and its four armed guards have de­scribed it as "like a scene out of an ac­tion movie."
Ac­cord­ing to a po­lice re­port, at about noon the ar­moured ve­hi­cle had backed up to­wards Re­pub­lic Bank's ATM ma­chine at St He­le­na, Pi­ar­co, when three masked gun­men am­bushed its four se­cu­ri­ty guards.
Po­lice said the men an­nounced a hold-up and seized the weapons be­long­ing to the G4S guards. The men then stole an undis­closed amount of cash stored in mon­ey bags and made their es­cape in a sil­ver Nis­san X-trail.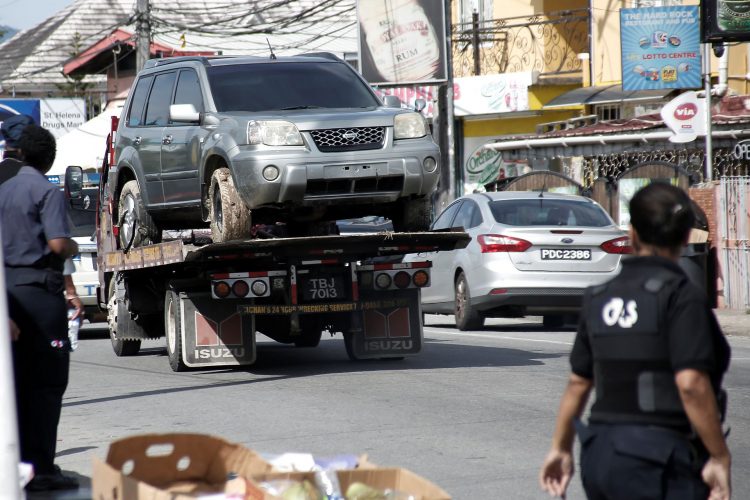 Two teams of po­lice of­fi­cers from the Ca­roni and Las Lo­mas po­lice sta­tions re­spond­ed to the scene of the crime with­in min­utes.
In­ves­ti­gat­ing of­fi­cers said the get­away ve­hi­cle, which bore no li­cence num­ber plates, was lat­er re­cov­ered aban­doned in a bushy area in Las Lo­mas.
CCTV footage of the rob­bery was re­trieved by in­ves­ti­gat­ing of­fi­cers.
Pre­lim­i­nary in­ves­ti­ga­tions have since point­ed to an em­ploy­ee of the se­cu­ri­ty com­pa­ny who po­lice sus­pect could be in­volved in the dar­ing heist.
Po­lice said eye­wit­ness­es told them that the G4S se­cu­ri­ty of­fi­cers were at that time re­plen­ish­ing the cash dis­pens­ing bins when the gun­men am­bushed them.
In­ves­ti­ga­tions are con­tin­u­ing.
Around the Web