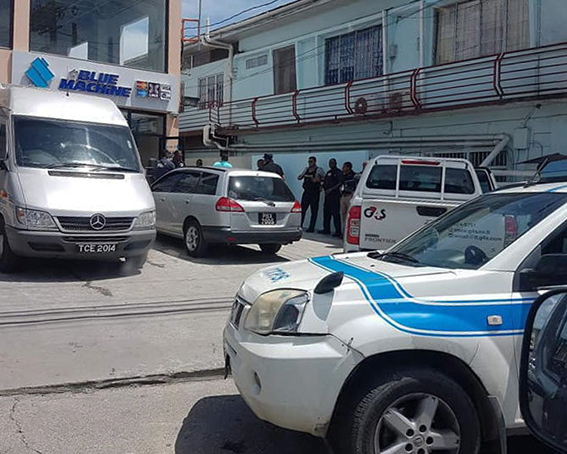 (Trinidad Express) Police say they have arrested a 38-year-old man  in connection with the robbery of three security officers who were at the time replenishing a Republic Bank Limited ATM, in the Caroni district on Monday.
The suspect, a labourer of Trincity, was arrested by officers attached to the Cunupia and Chaguanas Criminal Investigations Departments (CID), around 11a.m. on Monday.
The incident occurred around 12:10pm at the St. Helena Junction, when three armed G4S Secured Solutions Limited Estate Constables, who were restocking an ATM, were approached by three armed assailants who announced a robbery.
The suspects then relieved the Constables of eight bins containing an undisclosed amount of cash and two loaded fire-arms from the victims, before escaping in a silver Nissan X-Trail motor vehicle.
The vehicle was found abandoned at Centeno Road, El Carmen Village, St. Helena, without registration plates.
CCTV footage showed the suspects switching into a white Hyundai Tucson motor vehicle and making their escape.
Enquiries led to the 38-year-old suspect being arrested, after officers found the same white Tus-con parked in the driveway of the suspect's Trincity home.
Both vehicles were seiz-ed, processed and discovered to have been reported as stolen. Cpl. Steve Rajoo, of the Cunupia CID, is leading enquiries.
Around the Web