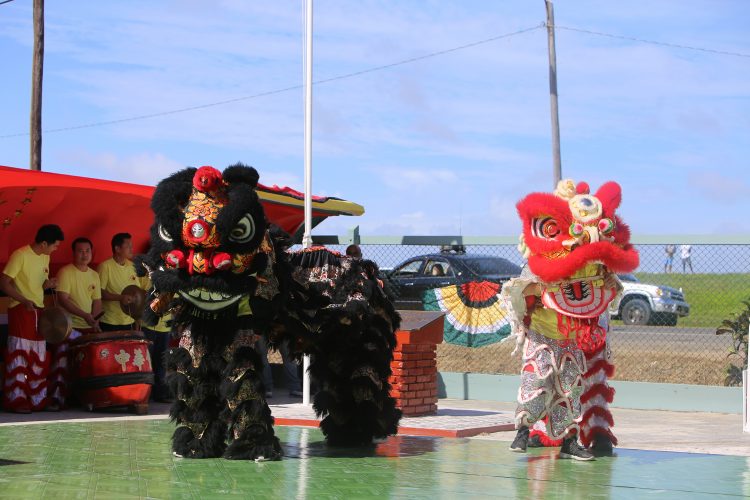 Emphasising the cultural and economic contributions of the Chinese people on the 165th Anniversary of their arrival on these shores, President David Granger yesterday welcomed the new wave of migrants from China and said it was a testament to the strong ties between Georgetown and Beijing.
By way of an Executive Notice issued by the President last year, January 12th has been designated Chinese Arrival Day, making yesterday's celebration at the Windsor Forest Primary School compound, where the Chinese Arrival Monument is located, the first of its kind in local history.
Windsor Forest has traditionally been home to large numbers of Chinese and the primary school there was selected to host the event, which was attended by the President and First Lady, Sandra Granger, several Ministers of Government, the Charge d'Affaires of the Chinese Embassy and a delegation of Chinese officials.
Delivering the feature address, President Granger stated that ….
To continue reading this article
Comments

The legal team for former New Building Society (NBS) manager, Maurice Arjoon, who was wrongfully dismissed, have levied on the bank's assets in a bid to recoup the $59,033,000 pension owed to him by the financial institution.
An alleged inebriated farmer of 54 Strath Campbell Village, Mahaicony, ECD, died at about 3 pm  yesterday at Chance Village, Mahaicony, after a vehicle he was reportedly not given permission to drive, crashed into a utility pole.

MELBOURNE,  (Reuters) – Rafa Nadal's Australian Open quarter-final curse struck again on Tuesday, an injury forcing the top seed to retire in the fifth set against Croatia's Marin Cilic.

Several hundred more sugar workers are expected to be laid off from the Skeldon, Rose Hall, and East Demerara estates by next month and the Guyana Agricultural and General Workers Union (GAWU) yesterday urged that the decision be reviewed.

The commencement order establishing the Telecommunications Agency was signed last Friday, in anticipation of the liberalisation of the telecoms sector, Minister of Public Tele-communications Cathy Hughes announced yesterday.