President David Granger on Friday commissioned two more buses to boost school attendance in regions Five and Six.
The buses were donated under the president's 'Five Bs' Programme,' which seeks bolster school attendance through the provision of 'Boats,' 'Buses,' 'Bicycles,' 'Breakfast' and 'Books.'
At the first commissioning ceremony, which was held at the Fyrish Primary School, President Granger spoke of the opportunities that are available as a result of education.
The president told the gathering, which was packed with students, that a quality education is very important, and that the 'Five Bs' initiative was started in order to ensure that all Guyanese students have access.
He explained that the initiative began in riverine areas, where children could not get to school because "they could not afford to get to school." He, however, stressed that the government wants to provide every child in the country with the opportunity to attend school and as it wants A grade students, "students who have access to school, who have good attendance and who can achieve a high grade in school."
The president then told the students gathered that many opportunities would be available to them and an education would help them to be able to make the fullest use of those opportunities. "You won't always have to sit by the bridge and sell plantain chips, you can packet them and sell to Jamaica," he said.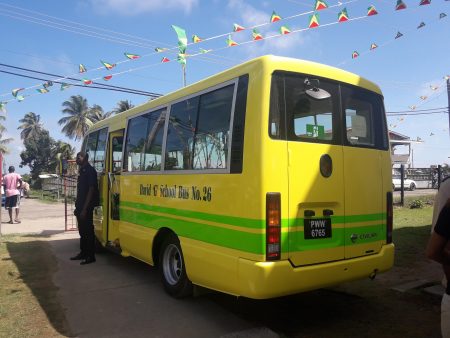 President Granger also emphasised that the initiative was started to benefit all the students of Guyana and not only specific parts of the population.
Regional Executive Officer of Region Six Kim Williams-Stephens, in a brief address at the ceremony, noted that the region presently has three school buses; one operating on the East Bank Berbice to New Amsterdam, one operating from Number 51 Village, Corentyne to Rose Hall Town and one from Corriverton to Number 51 Village, Corentyne.
She also noted that the region has received over 200 bicycles and one boat under the 'Five Bs' initiative. She also implored the beneficiaries to take care of the buses. Stephens said, "I want to pledge the administration's continuous support in ensuring that these buses are properly maintained and that they are only used for the purpose intended."
Minister of Social Protection Amna Ally, who also spoke, said that Region Six is one of the regions that would have benefited the most from the 'Five Bs' initiative. She noted that despite criticisms, the initiative is a success and has assisted students throughout the country.
The bus commissioned at the Fyrish school was donated by Peter Lewis, a Region Six businessman, who has donated three buses, a boat and hundreds of bicycles to the programme.
Meanwhile, the Ministry of the Presidency, in a statement issued yesterday, said a second bus was donated on Friday at the Novar Primary School, in Mahaicony, Region Five, where President Granger echoed the sentiments shared at Fyrish as he recommitted the government's efforts to ensuring that every Guyanese child is given the access and resources that they need to attend and excel in school.  "Regardless of race, religion or region, we will see that every child is given access to education. Children must have equal access," he was quoted as saying.
The ministry also said that over 500 students would benefit from the donations.
Comments

A young mother of two was yesterday morning stabbed to death at Belmont, Mahaica, East Coast Demerara, by her estranged husband, who later ingested a poisonous substance and succumbed.

With PPP/C parliamentarians filing private criminal charges against two government ministers, Opposition Leader Bharrat Jagdeo yesterday warned that it was just the beginning and also dared the APNU+AFC administration to bring criminal charges against him for his actions while he served as president.

Oldendorff Carriers, the German-based transshipment company used by Rusal for exporting bauxite from Guyana, has announced that it is "winding up" its operations here due to United States sanctions against the Russian aluminium producer.
The Ministry of Public Infrastructure (MPI) yesterday announced that refunding of passengers who were left in the lurch by Dynamic International Airways will begin on May 2nd.