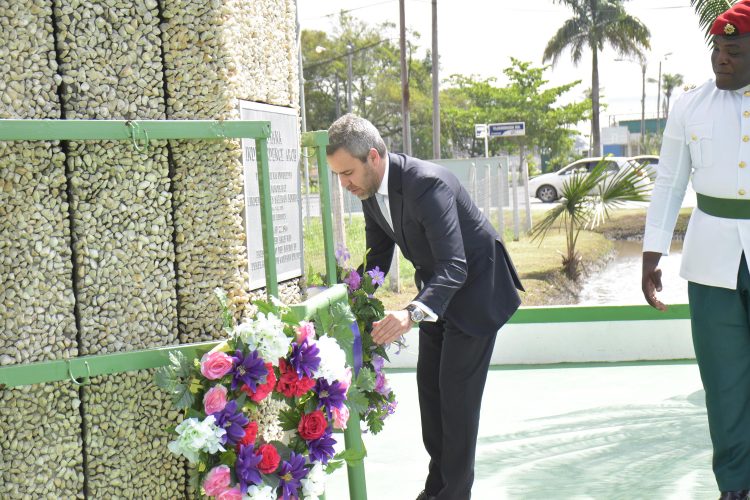 President David Granger yesterday received Letters of Credence from Haralambos Kafkarides, accrediting him as Non-Resident High Commissioner of the Republic of Cyprus to Guyana.
A release from the Ministry of the Presidency said that the new High Commissioner will be resident in Brasilia, Brazil.
In his remarks, President Granger said that the relationship between the two countries is founded on mutual respect for each other's territorial integrity and sovereignty and mutual non- interference in each other's internal affairs. 
In this regard, he said that, "Guyana reaffirms its unequivocal support for the independence, sovereignty and territorial integrity of Cyprus. Guyana rejects the use of force as a means of settling disputes. Guyana affirms the right of the people of Cyprus to have ownership and possession of all of its resources."
Cyprus was invaded by Turkey in 1974 and the northern part of the island is controlled by Turkish Cypriots.
Granger noted that Cyprus, though a small state, remains an important voice within the international community with whom Guyana looks forward to deepening its collaboration within -, the European Union and the United Nations.
High Commissioner Kafkarides said that Cyprus attaches great importance to the strengthening of its relations with Guyana at both the bilateral and multilateral levels.
Guyana and Cyprus established formal diplomatic ties 45 years ago, in February 1972.
Comments

(Trinidad Guardian) Former T&T and Manchester United footballer Dwight Yorke yesterday denied he entered into any contract with Chutney Monarch Neval Chatelal to loan him money to pay off a debt following his Island Vibe fete last year.

For the limited reopening of the Skeldon and Enmore sugar estates next month, government is in the process of borrowing some $10B to 15B from local commercial banks here, Minister of Finance Winston Jordan says.

A 38-year-old electrical contractor narrowly escaped death yesterday after he was shot and robbed of $600,000 by two motorcycle bandits who trailed him from a bank before cornering him at his Enmore, East Coast Demerara (ECD) worksite.
Guyana has registered its highest score on the Transparency International (TI) Corruption Index Report but even with a mark of 38 and ranking at 91 out of 180 countries it is still viewed as a very corrupt country.
Guyana's appeal over the constitutionality of presidential term limits will now be heard on March 12 by the Caribbean Court of Justice (CCJ), according to the Trinidad-based court's schedule of sittings.