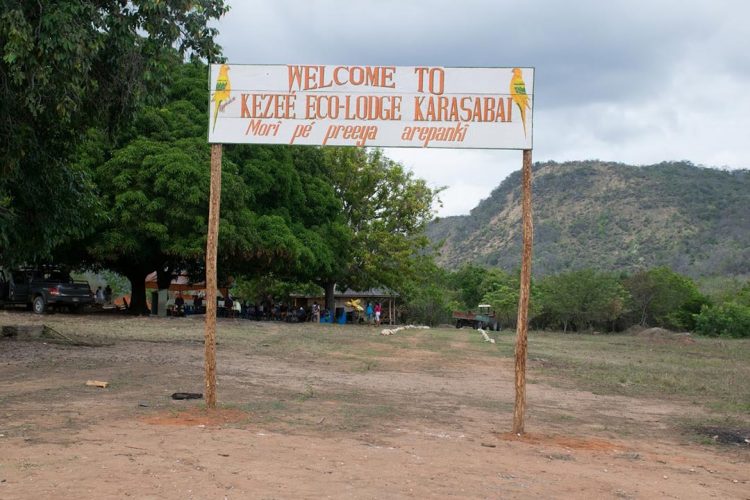 The Kezeé Eco-Lodge in the Karasabai Village, Region Nine was launched on Saturday by Minister within the Ministry of Indigenous Peoples' Affairs, Valerie Garrido-Lowe.
A release from the Department of Public Information (DPI) yesterday said that the initiative is aimed at promoting community development and economic growth through eco-tourism.
Speaking at the commissioning, Garrido-Lowe said, "The Government of Guyana has approved $5M in the 2018 budget to support your wonderful effort. So, it is for you to discuss how you will utilise that money."
The Kezeé Eco-Lodge is equipped with four single beds and bathroom and washroom facilities. According to the Project Manager, Andrew Albert Jr., several small huts are also intended for construction around the main hut, along with a man-made pond to further enhance the area.
Acting Head Teacher of Karasabai, Michelle George said, "I felt so proud because it's in my sub-district and I know that we have these sun parakeets and I know we will have an influx into our village".
Toshao of Karasabai, Elvis Edwards said, "We want to invite all Guyanese to be part of Guyana. If we want to promote one people, one nation, one destiny we must know our country".
"I am happy since I know it would give opportunities for young people like me. It would provide jobs, so I am happy about it," said Carey Rodrigues, another resident of Karasabai, according to DPI.
Regional Chairman, Brian Allicock also lauded the efforts of the villagers and boasted of the developments and progress made within several villages in the Region Nine district.
Karasabai village is one of several communities venturing into tourism through the Community Development Project (CDP), which falls under the ambit of the Amerindian Development Fund (ADF).
The CDP is in its second phase and over 100 communities were selected to execute the project, DPI said.
Comments
President David Granger will not be attending the Twenty-Ninth Inter-sessional Meeting of The Conference of Heads of Government of the Caribbean Community (CARICOM) in Haiti beginning on Monday.

Mashramani celebrations ground to halt for several families yesterday afternoon, when approximately 30 persons lost their homes after a fire of unknown origin ripped through three Victoria Road, Plaisance properties, including an apartment building.

Minister of State Joseph Harmon says that the US$3 million settlement offer made by Hong Kong Golden Telecom Limited (HKGT) on the outstanding balance for its purchase of government shares in the Guyana Telephone and Telegraph Company (GTT) is being actively considered, but the government's goal is to recover the entire US$5 million that is owed.

Opposition Leader Bharrat Jagdeo on Thursday criticised government and Minister of Finance Winston Jordan on the heels of the announced plan to borrow cash from local banks to reopen two sugar estates and to fund critical current and capital Guyana Sugar Corporation (GuySuCo) programmes.
The private sector is upbeat about the nearly three dozen-odd opportunities recently advertised in the oil and gas sector as it goes some way towards meeting local content needs, according to Private Sector Commission (PSC) Chairman Eddie Boyer.