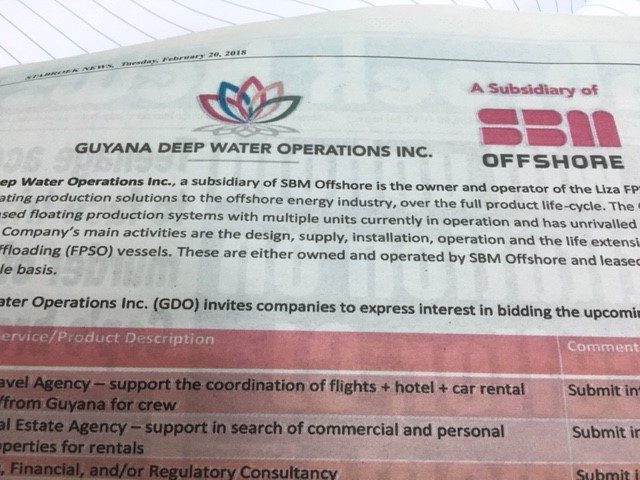 The company which will be running the production platform for the Liza-1 oil well has advertised for a range of services.
In an advertisement in today's Stabroek News, Guyana Deep Water Operations Inc (GDO) listed 31 areas for service opportunities. While difficult to quantify, it is another sign of the increased service opportunities for the economy here from ExxonMobil's oil production which is scheduled to begin in 2020.
GDO said it is a subsidiary of SBM Offshore, the owner and operator of the Floating Production, Storage and Offloading platform which will be used for the Liza-1 well which was discovered in 2015.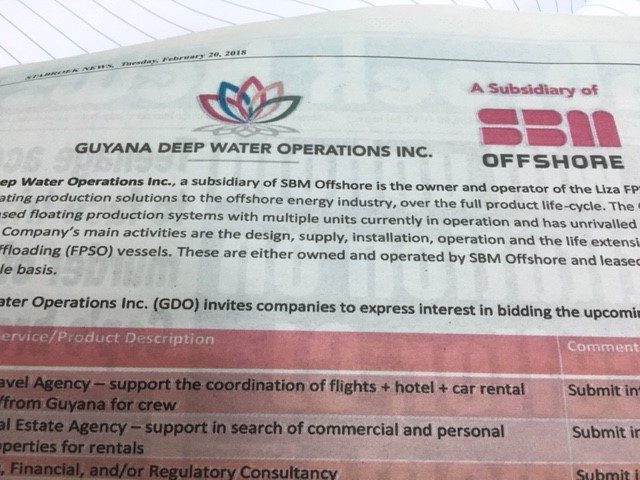 GDO invited expressions of interest in the following areas:
*Travel agency – support the coordination of flights and hotel and car rental to and from Guyana for crew;
*Real estate agency;
*Tax, financial and/or regulatory consultancy;
*Office maintenance services;
*IT support – onshore to offshore set up;
*Phone services – land and mobile;
*Medical care and exams services;
*Logistics – freight forwarding – customs brokerage;
*laboratory services – fuel and lubricating oil analysis;
*Testing and calibration of equipment and tools;
*Mechanical equipment repair and overhaul;
*Electrical equipment repair and overhaul;
*Steel prefabrication and construction workshops;
*Non-destructive testing services;
*Technical consultant services – electrical, instrumentation;
*Printed circuit heat exchangers and plates heat exchangers cleaning and refurbishment;
*Communication – VSAT, navigation and marine equipment maintenance and certification;
*Catering services, general food supplies;
*Medical services onshore and offshore;
*Industrial gases;
*Nitrogen purging and pressure testing
*Maintenance, inspection & recertification – life boat, life rafts, fire extinguishers etc;
*Painting (offshore);
*Scaffolding services (offshore);
*Personal protective equipment (onshore & offshore);
*Rope access (offshore);
*Diving & ROV services (offshore);
*Laser measurement and scanning services (offshore);
*HVAC, tanks and pressure vessel cleaning;
*Environmental measurement, recording and reporting;
*General ship handling, consumables.
The ad sets various deadlines for expression of interest.
Emails could be sent to: GuyanaDeepwaterOperationsInc@SBMOffshore.com
All interested companies must register with the Centre for Local Business Development in Guyana via www.CLBDGuyana.com or by visiting the centre.
Comments

GENEVA,  (Reuters) – Armed groups execute and torture civilians in Libya in almost complete impunity seven years after the revolution that toppled Muammar Gaddafi, the United Nations human rights office said on Wednesday.

A group of international researchers and petroleum policy advisors will today meet Cabinet ministers to discuss the emerging oil and gas sector and give insight into prudent preparations for the revenues that will be generated from the industry.

A 41-year old mother from Central Amelia's Ward, Linden, died on Monday evening, having reportedly suffered severe haemorrhaging after delivering a 10-pound baby at the Linden Hospital Complex.

Autopsies performed on the remains of Dextroy Cordis, Errol Adams and Kwame Assanah, the three accused robbery suspects who were fatally shot by the police along the Seawall Public Road, in Georgetown last Thursday, have confirmed that they all died from multiple gunshot injuries The autopsies was performed on Monday at the Georgetown Public Hospital mortuary by government pathologist Dr.

Henry Rupert Smith, for the third time, has been appointed Mayor of Mabaruma by Minister of Communities Ronald Bulkan.