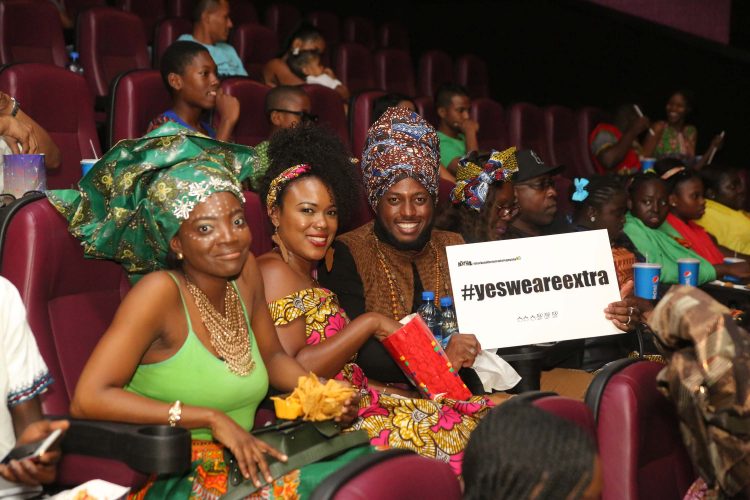 'Black Panther,' the new Marvel Studios cinematic juggernaut opened in Guyanese theatres to overwhelming support on Thursday evening, which saw a large number of patrons turning out in African cultural display to mark the occasion.
Members of the African Cultural and Development Association (ACDA) set the tone with beating drums, elaborate gele (headwrap) and very colourful Afro-centric prints as they proudly declared themselves "extra" excited to enjoy the different presentation of African culture.
Several who attended, and especially the men, paid homage to the cultural legacy of comedy "Coming to America," by declaring themselves "citizens of Zamunda on a visit to Wakanda."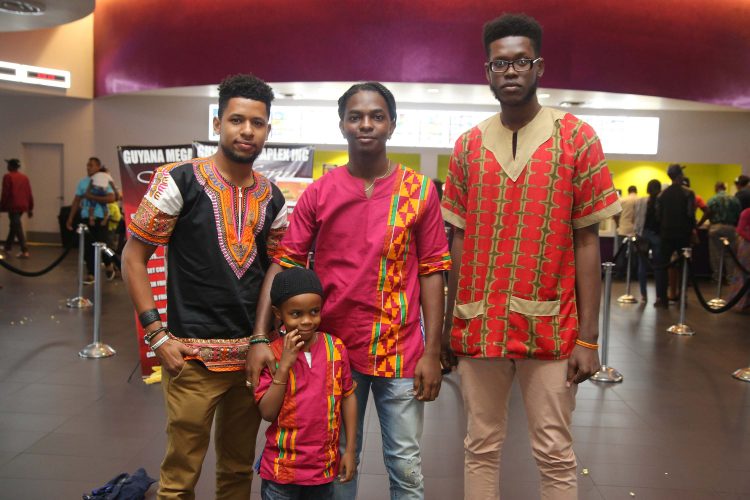 Management at Caribbean Cinemas, located at the Giftland Mall, told Stabroek News that all showings of the greatly anticipated movie were sold out.
The movie, which is the first major Hollywood production to feature an all-black cast of leading actors and the largest budget venture to be directed by a black person, has galvanised unprecedented support from Africans both on the Continent and in the Diaspora.
Described by reviewer Tre Johnson as a "gorgeous, groundbreaking celebration of black culture," the movie was deliberate in its visual presentation of all things Afro-centric, from the celebrations of various natural hair textures and expression, to the profusion of African-inspired clothing, language and fighting styles.
One of ACDA's senior members, Violet Jean-Baptiste, explained that organisation is always teaching that Africa and its people are more than what the world perceives them to be. She explained that the movie serves as a tool to further promote these teachings as it captures some of that "more."  "We are very appreciative of that and that our young people can see positive images of black people, including black people as inventors," she said, while adding that ACDA is currently spearheading an aviation programme in hopes of inspiring Afro-Guyanese youth to aspire to careers in the field.
ACDA is one of several organisations which have attempted to buy out entire theatres so that young Guyanese can enjoy the movie. The association was, however, unable to buy any of the 220-seat capacity theatres as it only managed to pre-purchase 60 tickets as all other tickets were sold out.
Meanwhile, those who were able to see the movie on Thursday evening were not disappointed and praised everything from the visuals to the acting.
One audience member told Stabroek News that he enjoyed the supporting actors, which included Guyanese Letitia Wright and Shaunette Renée Wilson, more than the leading actors.
Colina Browne, Psychologist at the Ministry of Public Health, said for her the movie validated a lot of beliefs about what the "dark continent" could've been without colonialisation.
"In many ways, slavery still has a grip on who we are as a people… it is now almost a marker on our DNA. I know this is a movie and all of that but it's precious. I think every person of colour should see this movie," she excitedly shared.
Those fans of the Marvel Cinematic Universe who simply went to see another installment rather than a socio-political commentary were not disappointed either.
The plot, the fights, the characterisation all lived up to expectations, with Micheal B. Jordan's Killmonger standing out as a favourite among those interviewed. For the women, however, it was the depiction of the all-female fighting force the Dora Milaje that wowed them, with General Okoye, played by Danai Gurira, and Nakia, played by Lupita Nyong'o, coming in for effusive praise.
Wright's Shuri, who has been declared the best Disney Princess ever, was described by one viewer as "letting out her Guyanese in every scene."
Comments

GENEVA,  (Reuters) – Armed groups execute and torture civilians in Libya in almost complete impunity seven years after the revolution that toppled Muammar Gaddafi, the United Nations human rights office said on Wednesday.

A group of international researchers and petroleum policy advisors will today meet Cabinet ministers to discuss the emerging oil and gas sector and give insight into prudent preparations for the revenues that will be generated from the industry.

A 41-year old mother from Central Amelia's Ward, Linden, died on Monday evening, having reportedly suffered severe haemorrhaging after delivering a 10-pound baby at the Linden Hospital Complex.

Autopsies performed on the remains of Dextroy Cordis, Errol Adams and Kwame Assanah, the three accused robbery suspects who were fatally shot by the police along the Seawall Public Road, in Georgetown last Thursday, have confirmed that they all died from multiple gunshot injuries The autopsies was performed on Monday at the Georgetown Public Hospital mortuary by government pathologist Dr.

Henry Rupert Smith, for the third time, has been appointed Mayor of Mabaruma by Minister of Communities Ronald Bulkan.