Dear Editor,
A Teaching Service Commission vacancy notice appeared in the April 8 edition of the  Sunday Stabroek. It reveals the number of 'vacancies' at various levels of specified schools across the country. While interestingly enough the Georgetown (GT) schools have been identified, one needs ready reference to a map to pinpoint the number and type of positions vacant across the 10 Regions.
However, the tables below summarise the disposition of vacancies at identified levels. (Practical Instruction Centres are not included)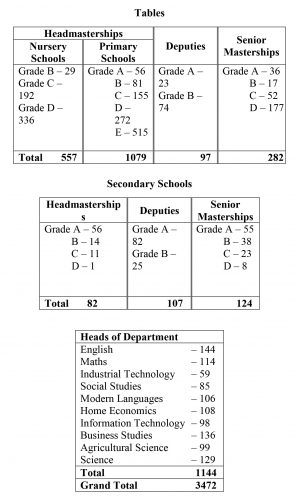 What the above reflect is a grand total of 3472 vacant positions in the education delivery system, that is with the exception of Practical Instruction Centres.
Below is the following order in number of vacancies:
a) Grades B – D Nursery Schools reflecting 552 vacancies
b) Primary Schools
There are 1079 vacancies across the five grades of schools (A – E), with Grade E showing 515 or nearly 48% of the total vacancies
c) Senior Masters/Mistresses
The other significant depletion is at the above level – totalling 282 vacancies, of which Grade D schools have the highest number of vacancies – 177
d) Secondary Schools do not appear to be struggling so badly, with a total of 313 vacancies across Grades A – D schools.
What must be troubling is the total of 1144 vacancies of Heads of Department.
Of the eleven (11) specialist areas, English shows the highest vacancy rate of 144, followed by Business Studies – 136; Science – 129; Mathematics – 114; Modern Languages – 106; Information Technology – 98.
The public and the Ministry of Education must draw their respective conclusions about what appears to be an endemic plight which anxious students have to face.
In what language will they communicate, given the shortage of 250 related teachers (is Creolese then an option?).
Who also is checking and analysing this irreparable sinkhole in our education delivery system? Surely a comprehensive strategy is needed to treat this state of constipation. But its treatment must be preceded by the enunciation of a vision for the future development of related capacity – all the more to match prospective identified needs – especially in language(s) and science.
Task-forcing with salaries is but a minimal intervention, even though badly needed, but it is unlikely that adjustments would reach a level of incentives that would attract and maintain the trust of teachers in the current style of administration.
While GT (Georgetown) schools have been identified in the advertisement, other regional locations are not shown. This is unfortunate, as it would have provided interested parties with a more focused indication of where the priority needs are, and the degree of urgency with which they should be addressed.
When you read the fine print, you will see that the invitations are primarily for applicants for promotion (transfer applications will not be processed in the meantime). Even so promotions will involve transfers. In that case see the following injunction under 'Directions to be observed. Applicants':
"Teachers who fail to take up the offer of appointment within one (1) month of the date of the letter offering them the appointment may be debarred from promotion for up to two (2) years." Suppose delivery of the letter is delayed?
This is a most disincentive provision to say the least. It takes no account of domestic considerations – spousal jobs, children's current and future schooling, and availability of adequate alternative accommodation, which in any case is not guaranteed.
But all this is a repetition of previous years. It would be interesting to learn whether any analysis has ever been conducted as to the efficacy of this approach to recruiting and appointing human beings to the Teaching Service.
Presumably the Guyana Teachers' Union participates in the selection process. If so, they should seek to ameliorate some of those demotivating indicators their members could identify.
In any case, at the current rates of pay it would be surprising if there were that many applicants for promotion into scales minimally more than current pittance.
Yours faithfully,
E B John
Around the Web