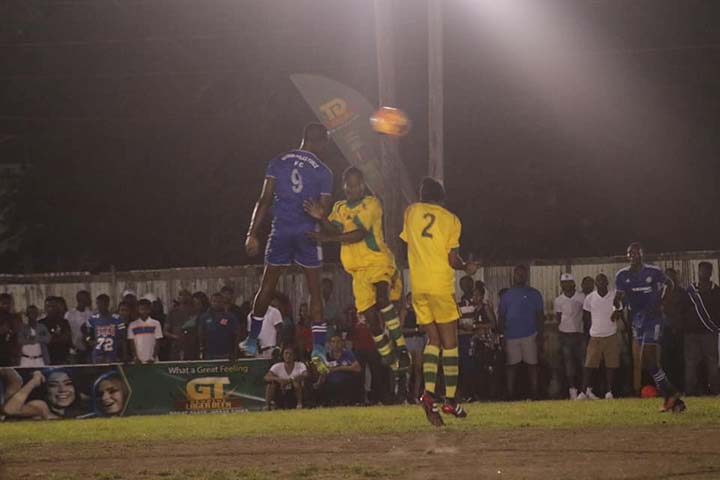 A 58th-minute free-kick conversion from custodian Roncy Caleb, propelled Georgetown (GT) Police to the inaugural GT Beer Berbice 8-aside Football Championship, defeating Beacons 2-1 on Friday.
Locked 1-1 at the Scott's School ground, New Amsterdam (NA), unlikely hero Caleb made his presence felt in the dying minutes of the showdown.
The burly custodian uncorked a powerful free-kick from just over the halftime line, which sailed into the back of the net, sending the large crowd into a frenzy.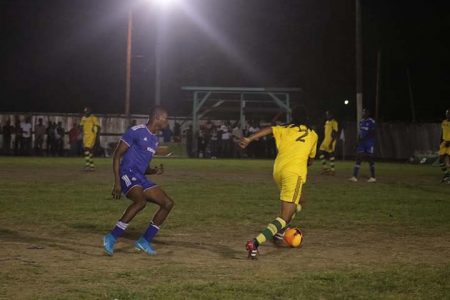 Prior to the dramatic conclusion, Beacons snatched the lead in the 30th+1 minute as Keifer Brandt scored, slotting home from inside the six-yard box, after collecting a flat cross.
However, the lawmen levelled proceedings following the resumption of play, as Anthio Wallace scored in the 50th minute.
The ever dependable Wallace, made his presence felt, placing his effort into the back of the net, after receiving a low cross inside the six-yard area.
GT Police received the winner's trophy and $500,000. On the other hand, Beacons collected the runner-up package of $300,000 and the corresponding accolade.
Meanwhile, Monedderlust riddled Edinburgh Gunners by a 3-0 scoreline in the earlier third-place playoff.
The contest was decided in the first half, as Monedderlust romped to a 3-0 halftime lead, an advantage they would maintain for the entirety of the second period.
Kelvin Joseph opened the scoring compliments of a second-minute conversion. Arthley Bailey then took over the goal scoring responsibility, etching his name on the scorer's sheet in the ninth minute.
The result was sealed in the 14th minute, as Bailey found the back of the net once more. With the win, Monedderlust copped $100,000 and a trophy.
On the individual side of the presentation ceremony, Caleb of GT Police copped the Best Goalkeeper prize of $50,000.
Similarly, Deon Alfred of Beacons walked away with the Best Goal award of $50,000. The tournament was also sponsored by Fly Jamaica.
Results
Finale
Beacons-1 vs GT Police-2
GT Police Scorers
Anthio Wallace-50th
Roncy Caleb-58th
Beacons Scorer
Keifer Brandt-30th+1
3rd Place Playoff
Monedderlust-3 vs
Edinburgh Gunners-0
Arthley Bailey-9th and 14th
Kelvin Joseph-2nd
Around the Web