A double from Most Promising Player Seon Grant, propelled Agricola Red Triangle to their second consecutive Ralph Green u11 Football title, overcoming Grove Hi-Tech 2-1 on Sunday at the Grove Community ground.
It was a rematch of the earlier group round, which ended 4-2 in favour of the home side. The contest threatened to follow a similar path, as the host took the lead in the first minute through Dwayne Cliffe.
However, Grant made his presence felt immediately, compliments of a second- minute conversion. It was his fifth goal in the tournament.
The come-from-behind win was sealed in the 16th minute of the second period, as Grant completed his brace to notch his sixth overall goal.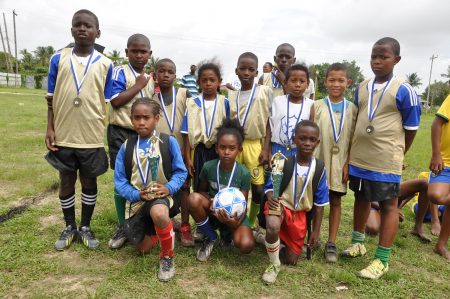 With the win, Agricola retained the championship trophy and collected medals.
On the other hand, the runner-up pocketed the respective trophy and medals.
Meanwhile, Samatta Point/ Kaneville ended the event in the third position, after defeating Diamond Upsetters via a walkover.
Both teams pocketed trophies and medals.
On the individual side of the presentation, Jonathan Andries received the Most Valuable Player (MVP) award due to his versatile play. Mainly a defender, Andries ended the event with seven goals.
Also, Jamal Cordis of Grove Hi-Tech, collected the Highest Goal Scorer title following 11 conversions in nine matches, while teammate Rayfield Hilliman, received the Most Discipline Player title.
Joshua Dias of Diamond Upsetters copped the Best Goalkeeper award, while Colin John of Agricola walked away with the Best Coach.
Around the Web