Essequibo Under 17 cricketers yesterday held their nerve to complete their first win by 18 runs over the Select Under-15 team at the Lusignan Community Center Ground yesterday in the Guyana Cricket Board (GCB) Inter county U-17 tournament.
Essequibo, with two changes, took first strike and posted 138 from their 50 overs while the U-15s who had made eight changes from the side that faced Berbice, threw away a good start to crumble to 120 all out.
Essequibo lost Wazim Mohammed for six with just 20 runs on the board before Jeremy Sandia bowled national players, Sheldon Charles and Lance Roberts, both without contributing to the score.
He then bagged his third wicket after trapping Azim Mohammed also without scoring to blow away the top order at 4-34 with 38 overs still to go.
Saeed Hahk, the last recognised batsman in the side cushioned the early loss as he partnered with Amir Singh to put on 47 for the sixth wicket. The U-15s had a chance to break the partnership early on with Singh on 33 hoisting off spinner Gladwin Henry to cover but Theodus Lovell dropped the `sitter'. But it only costed them eight additional runs as Romeo Datterdeen had Singh trapped leg before for 41.
Hahk then teamed up with Badesh Parasotam after the dismissal of Sylvian Williams for four to add 30 runs.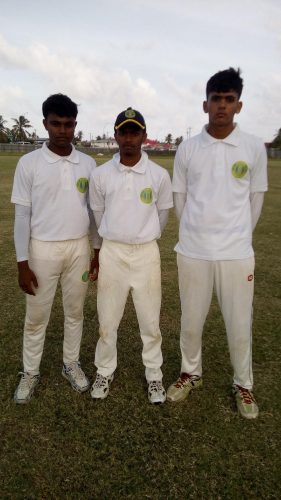 Jonathan Ramsammy, the leading U15 wicket-taker, removed Parasotam (13) and Sandia bagged his fourth wicket that of Romario Stephen.
Hahk was left stranded on 41 after facing more than 110 deliveries. Sandia finished with 4-16 while Rampersaud collected 2-25.
In reply, the U-15s got off to a wonderful start with Nicholas Rajpat and Mahendra Gopilall adding 41 for the first wicket before Gopilall held out to the man at square. Manoj Dasrath removed Rajpat (16) and Ajay Gainda (2) in the same over to leave the U15s in a spot of bother.
Datterdeen and Rampersaud, the two most experienced players in the side coasted along but Datterdeen tried to hit a delivery from Parasotam over cover and found Hahk.
Parasotam quickly worked through the tail removing Lovell, Tammani Fraser and Antwonie Alexander cheaply.
With wickets tumbling, Rampersaud was forced to accelerate only to be bowled by Williams for a fighting 26.
The U15s needed 18 runs from the final over which was bowled by Hahk who removed the last man, Gladwin Henry with the second delivery.
Sunday's final round will see the U-15s taking on Demerara at Everest and Berbice taking on Essequibo at Bourda.
Around the Web