(Trinidad Guardian) Globalisation, more than anything else, is being blamed for the state of cricket in the West Indies according to Dave Cameron, the president of Cricket West Indies. He made statement following yesterday's launch of the Chirpy's Classroom Adventure Academic Manual at the Hyatt Regency Hotel, Wrightson Road, Port-of-Spain.
According to Cameron we keep forgetting to put our situation in the context of globalisation. "If you just look at the top of the cricket rankings, the globalised nations, that tells you everything. There is financial support, corporate support, government and corporate, and so that is why Cricket West Indies is the way it is today" Cameron said.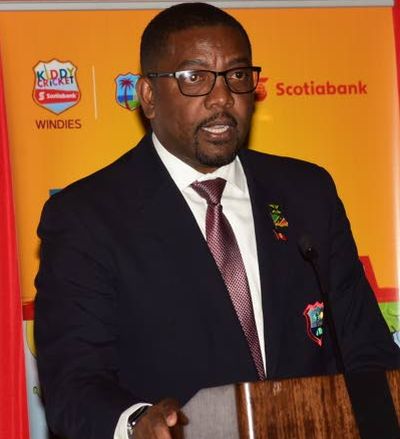 He said "We were supported by sugarcane, bananas, bauxite. Where are those industries today? the industry is now tourism. So our job now is to find ways of supporting tourism, because we believe that we are the biggest tourist product in the region, and getting them to support that product as we grown it in the region."
The regional cricket boss also made it clear there will be consequences if the regional team fails to qualify for the World Cup, telling reporters that we need to be crystal clear of what we are doing. "We are about performance and we want to make it very clear that whatever we do that if we don't perform, then there are consequences."
He did not say what these consequences will be, but he stopped short of saying if there will be changes in the coaching staff of the team, expressing extreme confidence that the team will qualify for the World Cup. To date the regional team can boast of an unblemished record in its four matches of the preliminary round of the ICC Qualifiers in Zimbabwe, beating United Arab Emirates (UAE), Papua New Guinea, Ireland and the Netherlands.
However, he said that since some of the management staff members are in temporary positions, they will seek to have it finalised moving forward to 2019. Finalising these positions we see cricket west indies adopting new contract arrangements for the team. According to Cameron "When we select teams for competition, and we select management staff, we are now trying to put their contracts to align with major events, rather than having a two or three year contract."
Cameron also sought to clear the air on comments made recently concerning the having female Physical Education teachers at school. He said his response was taken out of context. Saying the question was specific to whether the Jamaican government was to blame for the lack of popularity of the sport at schools. Cameron said, "Of course, we want female PE teachers at schools, but that was not the issue. The issue is we need more men if we are going to grow the game of cricket specifically for the make side because boys learn from men which is a specific issue.
Cameron also denied that Cricket West Indies incurred a debt of US$42 million with the India Cricket Board by its inability to honour its commitment on a tour of India back in 2014. "What we have done was to agree to play the matches at another time. To that we played two games in 2016 in Florida and will play another two games when we go to India later this year," Cameron said.
Around the Web