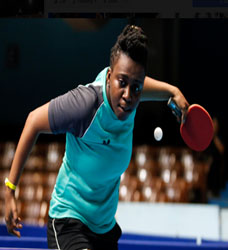 The Guyana table tennis team to the upcoming Commonwealth Games in Australia will have a one week training stint in the United States of America according to sources close to the Guyana Table Tennis Association.
The seven-member team comprising four men and three women's players is set to depart Guyana Friday for the US where they will train under the watchful eyes of former Caribbean men's singles champion and multiple times national men's singles champion Sydney Christophe, who is now a high ranking International Table Tennis Federation (ITTF) qualified coach.
According to sources, the GTTA is hoping that Christophe will be able to assist the players to reach their peak prior to their participation at the April 4-15 games in Queensland, Australia.
The men's team of Christopher Franklin, Nigel Bryan, Shemar Britton and Joel Alleyne is the identical team that performed creditably at the Central American and Caribbean Games Qualifiers in Cuba recently but the standard at the Commonwealth Games is expected to be considerably higher.
The women's team will be missing top player Chelsea Edghill because of final year studies at Lindenwood University in the US and her place has been taken by Priscilla Greaves.
The other two members of the team are Natalie Cummings and Trenace Lowe.
Lowe, who resides in the US and coach of the team Idi Lewis are also expected to participate in the training stint run by Christophe.
The national men and women's teams have qualified for the CAC games which will be held in Barranquilla, Colombia in July.At the 2014 Commonwealth Games in Glasgow, Scotland, Guyana was represented by Paul David, Franklin, Britton, Lewis, Lowe, Edghill, blake and Cummings.
Around the Web