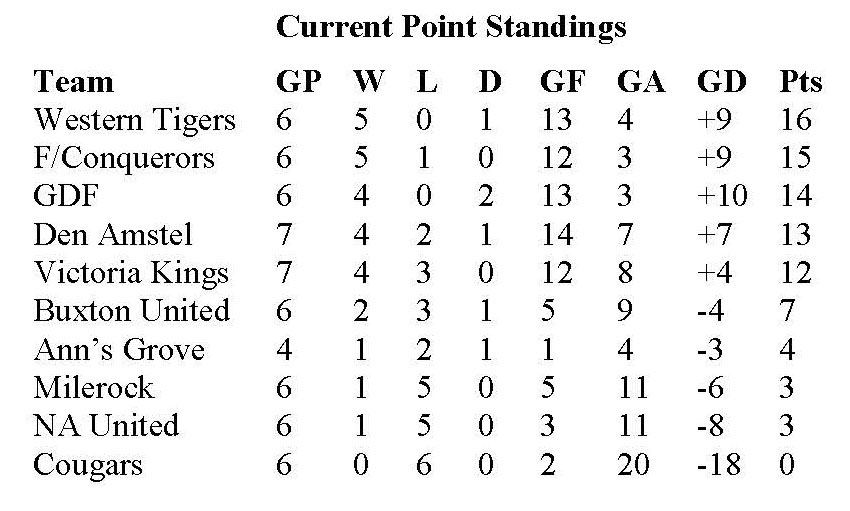 Amos Ramsay netted the equalizer in the dying moments as defending champion Guyana Defence Force (GDF), secured a 1-1 draw with Buxton United in the Guyana Football Federation (GFF) Elite League Sunday.
Trailing 1-0 at the Camp Ayanganna ground, Ramsay denied the Buxtonians the famous victory with a 90th minute conversion.
Due to the outcome, the army unit move onto 13 points and remain in third place, while Buxton United climb onto seven points and remain in sixth position.
Meanwhile, Den Amstel edged Victoria Kings 2-1. Gideon Payne and Delon Lanferman scored in the 30th and 80th minute apiece. For the loser, Aubrey Gibson scored in the 42nd minute.
With the result, Den Amstel moved onto 13 points and climb into fourth place, while the loser remain on 12 points and drop into the fifth position.
The tournament continues on Friday with another doubleheader at a venue to be announced.
Complete Results

Game-1
Den Amstel-2 vs Victoria Kings-1
Den Amstel Scorers
Gideon Payne-30th
Delon Lanferman-80th
Victoria Scorer
Aubrey Gibson-42nd
Game-2
GDF-1 vs Buxton United-1
Buxton Scorer
Denver Dennis-90th
GDF Scorer
Amos Ramday-90th
Around the Web