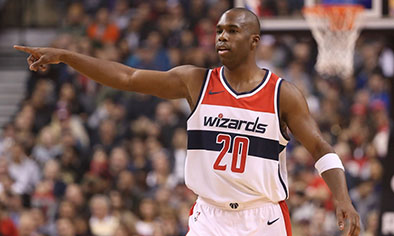 (Reuters) Washington Wizards guard Jodie Meeks was suspended 25 games for violating the league's anti-drug programme, ESPN's Adrian Wojnarowski reported yesterday.
Citing sources, Wojnarowski reported, "Meeks tested positive for banned compounds ipamorelin and growth-hormone-releasing peptide-2."
Meeks issued a direct denial to ESPN.
The suspension means Meeks will miss the start of the playoffs and, if the Wizards do not play 25 games this postseason, the suspension will carry over to next season. According to league rules, Meeks will have to sit while he appeals the suspension.
The Wizards play the Toronto Raptors to open the postseason.
"It is regrettable that the NBA has prematurely taken action against Jodie today," Meeks attorney, Ben Levine, told ESPN. "Accordingly, we will appeal the suspension and vigorously defend Jodie's rights. Unfortunately, under the CBA, a player is guilty until proven innocent and while Jodie's appeal is pending he will be forced to sit out the playoffs."
Meeks, 30, is averaging 6.3 points in 14.5 minutes per game this season. He said the suspension was a "wrongful accusation," in a statement to ESPN.
"Because I have never used a drug of any kind I am absolutely heartbroken and perplexed …. Let me be clear: I have never taken anything whatsoever for a performance-enhancing reason," Meeks said.
The No. 8-seeded Wizards begin their first-round series with the Raptors in Toronto today.
Around the Web