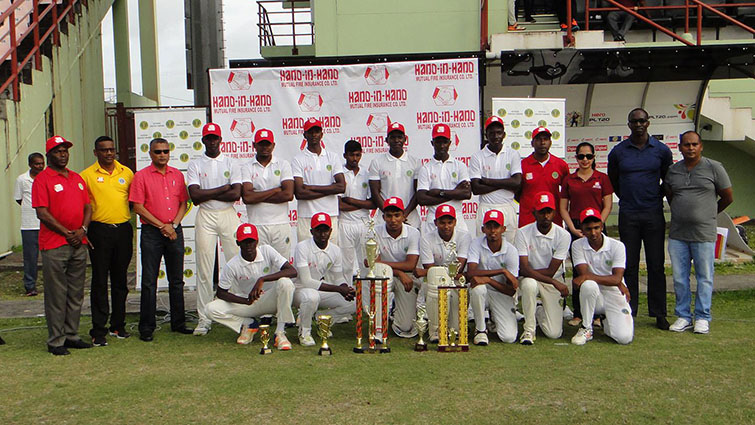 After weeks of delay the final of the Guyana Cricket Board/ Hand-In-Hand Mutual Fire and Life Insurance 50-over Inter-County Under-19 tournament concluded with Berbice stamping their authority in a four wicket win over the Select Under-17s at the National Stadium, Providence yesterday.
The Select U-17s batted first, posting 133 all out in 42.5 overs while Berbice reached 137-6 in 37.2 overs to seal the title which they will add to their three-day title triumph.
The new champions won the toss and elected to chase, as they had done throughout the tournament and continued a winning streak of four matches on the trot by remaining unbeaten.
The match was forced to be reduced to a 48 overs-a-side contest after an issue with the sight screen.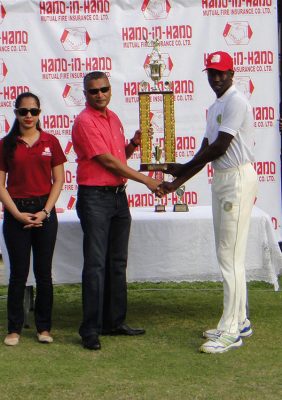 The Berbice bowlers, though, immediately went to work removing West Indies youth captain, Sachin Singh in the first over without a run on the board. Singh slashed a delivery square of the wicket, picking out the most improved youth player of the tournament, Kevlon Anderson. Navendra Persaud struggled against Anderson who had him edging to Junior Sinclair behind the stumps with only one run on the board.
Cricket West Indies Regional Under-15's leading run-scorer, Mavendra Dindyal was also hard-pressed by medium pacer, Anderson and was run out.
Dindyal played a delivery cover but his partner at the non-striker, Seon Glasgow did not move and the two stared at each other after ending up at the same end. Sinclair missed his first attempt of the run out but had time to make right his effort with a decent throw from Alex Algoo. Dindyal looked good for his 15 which included three boundaries.
The Select U-17s lost their fourth and fifth wickets with the score on 19 and 38.
However, Glasgow and Andre Seepersaud defended nicely while putting on a 77-run partnership.
Berbice captain, Kevin Sinclair's eight overs included four maidens but Keith Simpson's third over triggered the increase in run rate as Seepersaud flicked him for a four then hooked him for a six off successive deliveries. With runs coming freely the pair also shared their bit of hiccups with running between the wickets but still managed to see their team past the 100 run mark.
Glasgow, who had brought up his 50 with a gentle push to point looked to heave a Trevon Stanislaus delivery over mid-wicket but only managed to find Leon Swamy for a 129-minute 51 from 89 balls inclusive of eight fours and one six.
Simpson returned to bowl a double wicket maiden, and tore into the tail to return figures of 4-33 with Seepersaud stranded on 46 to be the third batsman to score more than four runs. Anderson finished with 2-19 while Swamy, Stanislaus and Javed Karim bagged one wicket a piece.
In reply, Berbice's opening pair, Algoo and Junior Sinclair started in their usual style with brisk scoring.
Algoo would count himself unlucky, pushing a soft ball back into the hands of a diving Sylvan Williams who pulled off arguably the catch of the tournament to end Algoo's stay for 10 with the score 28-1 at lunch.
Junior Sinclair added only three to his total at lunch when he fell to Singh for 13 while his cousin, Rose Hall Town Youth male cricketer of the year, Kevin Sinclair added 43 with Karim before Nigel Deodat bowled tightly to keep Select U-17 in the contest with the wicket of Kevin Sinclair for 28 and Anderson for 13 while Marvan Prashad removed Karim for a top score of 38 to leave Berbice in a spot of worry at 119-5.
Berbice fell further when they lost Garfield Benjamin for only one, still 14 runs away from victory.
However, Swamy and Steve Deonarine chipped away at the target, only taking certain singles and with the scores level, Swamy hoisted Seepersaud over cover to end the match in fine style.
Speaking at the presentation ceremony immediately after the match, Hand-in-Hand's Shafeena Juman expressed excitement at seeing the young talent Guyana has while touting a possible female tournament later on.
Meanwhile, victorious skipper, Sinclair, who copped the double was high in his praise of his team's efforts, noting that it was not just a one man show, but everyone put their hands up on the given day and brought home the match for their side.
GCB honorary Secretary, Anand Sanasie congratulated the Berbice team who were outright the stand out team of the competition and signaled a bright future for the sport with the prospects of this tournament.
Sanasie also wished those who will be selected to represent the country at the Regional U-19 tournament well as well as those who will take part in the Regional U-17 tournament, noting that the U-17s have shown they got what it takes to bring home the championship.
Around the Web