Eighteen year old PSL wheelsman, Cortis 'Chappy' Dey got the better of We Stand United's Andre Hicks to take the Guyana Cycling Federation (GCF) National Road Race Championship in the senior category on Sunday in front of a jubilated crowd.
The Kilcoy, East-Berbice Corentyne resident secured only his third win in the division after battling the rain and 21 other riders across the 110-mile journey finishing in a time of four hours, 51 minutes and 37 seconds (04:51:37).
Speaking to Dey at the end of the race, he said "The race was very interesting coming down to the turning point I had to conserve as much as possible and do the necessary work and keep going over and watching on." He added that it was about thinking and riding while conserving energy that made him secure the win.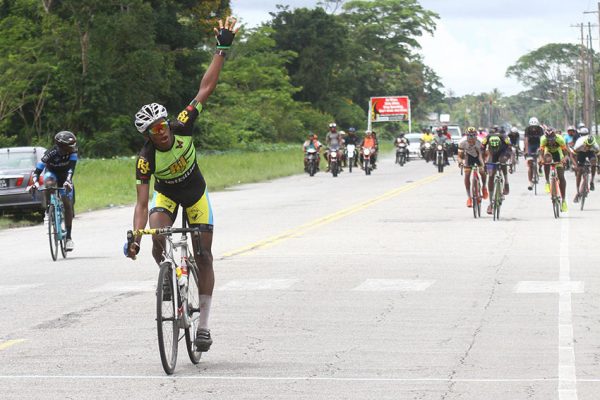 Coming down the Homestretch turn, Dey said he "thought it would have ended in a bunch sprint but everyone was just pulling brakes and watching each other and I said `it's now or never' and just make a move and pass him [Hicks] about 500 meters and claim the victory."
Meanwhile, second placed Hicks said he cramped up on the final leg after producing a marvelous jump on the turn to take the lead. Hicks finished second in the road race behind Raynauth 'Obeah Man' Jeffrey with Dey coming in third in the time trial. Romello Crawford completed the top three ahead of Warren '40' McKay, Paul DeNobrega and former champion, Jeffrey and Cocos' Jamaul John.
The former champion said it was his blunder that cost him the race, adding that the known threats were marked out of contention.
He congratulated Dey on a good ride.
Veteran rider, Kennard Lovell trailed the peloton on their journey that began from Homestretch Avenue, right into Mandela Avenue, left at DSL into the East Bank Carriageway, South along Houston Public Road all the way to Timehri where they turned around at the end of the double road before turning onto the Linden Soesdyke Highway to Loo Creek and back en route to the starting line.
Walter Grant Stuart also rode well, leading the race almost 75 percent but coming down to the back the youngsters got the edge and broke away.
National Cycling coach and race organizer, Hassan Mohammed thanked the Guyana Police Force for the prompt service but pointed out that the race was gruelling because of the distance. He indicated that some of the seasoned riders did not impress because they blew their chance to win the race but is hopeful they learn from their mistakes.
Previously, Clair Fraser Green (women), Briton John (juniors), David Hicks (Juveniles), Andre Spencer ( Over 50), McKay (Masters) won their respective categories in the championships.
Around the Web