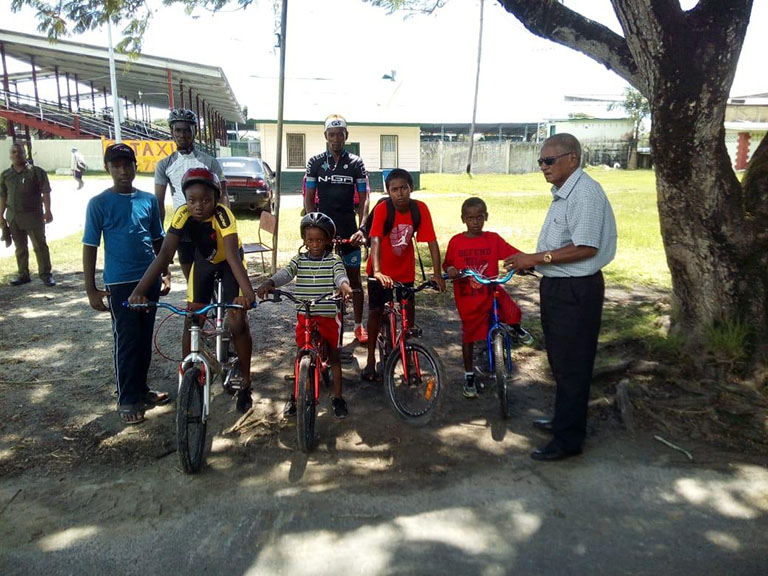 The future generation of the country's cycling continues to be shepherded by national cycling coach, Hassan Mohammed, who rolled out the 42nd Teach Them Young Cycling programme at the inner circuit of the National Park, Thomas Lands yesterday.
The event, which saw over 20 young riders take the breeding ground of national cyclists, was ushered in by Mohammed who welcomed the youngsters and  commended the parents who afforded their children the opportunity to take part in the free progamme.  The future national athletes were taught the basics such as stamina, art of pedalling, bike settings, endurance, tailing, cornering, pacing, sheltering and overtaking.
According to Mohammed, the programme, which comes under the National Sports Commission's summer actitivites, provides an opportunity for the youngsters to come out and have a good time while developing themselves in a sport that gives them a healthy lifestyle as well as provides them with the opportunity to represent Guyana should they excel.
The majority of the riders were first timers coming from as far as Coverden, East Bank Demerara with some of them also being second generation riders such as Lennox Jackman, who has already in two cycling meets, shown improvement as he goes along.
The programme also teaches youngsters life skills as they socialize with each other and provides outdoor fun as a lot of the children have been beset with indoor electronic forms of entertainment.
Mohammed said that the event is not limited to those who have already turned up but suggested that anyone who wants to come forward and learn the sport is free to do so, all that is required is protective gear such as helmet and a bicycle and they can join in the fun from 09:00h-11:00h daily.
The programme has groomed 95 percent of the cyclists that have represented Guyana including current Secretary General of the Guyana Olympic Association, Hector Edwards, who was part of the inaugural programme in 1976.
And as the years rolled by the likes of Marcus and Noel Fiedtkou, Byron and Bertram James, Godfrey Pollydore, Dwayne Gibbs, Linden Dowridge, Robin Persaud, Eric Sankar, Tyrone Hamilton, the late Troy Humphrey, Alex and Reginald Mendes, Junior Niles, Geron Williams, Warren McKay, Raynauth Jeffrey, Michael Anthony, Hamza Eastman, Raphael Leung and Jamal John have participated in the programme.
Around the Web