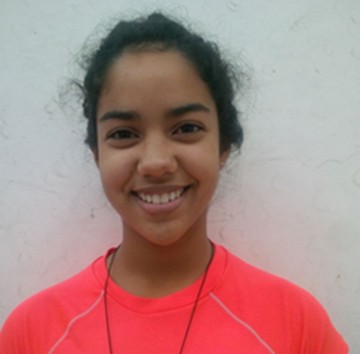 Guyana's junior squash team which is currently participating in the Junior Caribbean Squash tournament in Jamaica notched up two additional wins in the boys and girls' team events yesterday.
The female unit brushed aside Bermuda 5-0 with Georgiana Fernandes defeating Celia Robinson 11-2, 11-0, 11-3 while Abosaide Cadogan downed Ariana Lowther 11-3, 11-2, 11-6. 
Co-captain Rebecca Low continued the South Americans win  streak with an 11-8, 11-6, 11-7 triumph over Abigail Brewer before Sarah Lewis and Kirstin Gomes completed the sweep by delivering wins over Hailey Moss and Charlotte Toogood, (who just wasn't)  11-6, 11-3, 11-9 and 11-6, 4-11, 11-8, 11-9, respectively. 
Guyana, who journeyed to the Island of Wood and Water to recapture the title they lost in 2017, will now turn their attention to Barbados who are also unbeaten in the team events for the final showdown to determine the Caribbean champions.
That clash will determine the girls overall winners. That encounter is set to begin at 10:00hrs local time today. 
The boys, on the other hand, who defeated Bermuda 4-1 to extend their unbeaten run, will also exchange serves against Barbados to decide the winners of the male category. 
The match against Bermuda, however, saw boys U13 champion Michael Alphonso brushing aside Ethan Roserea 11-1, 11-1, 11-1 to continue his impressive run. 
Shomari Wiltshire, the boys U15 title holder, was also in a dismissive mode as he eased his way past Matthew Elliott 11-2, 11-1, 11-2 to send the South Americans 2-0 up in the match.
Rithew Saywack and Daniel Islam were the other winners, defeating Anaya Smith and Graham Moss 11-5, 11-5, 11-6 and 11-1, 11-1, 11-1, respectively while Alexander Cheeks lost to Taylor Carrick 5-11, 5-11, 6-11. 
Their showdown against Barbados will commence at 13:00hrs local time. 
Around the Web