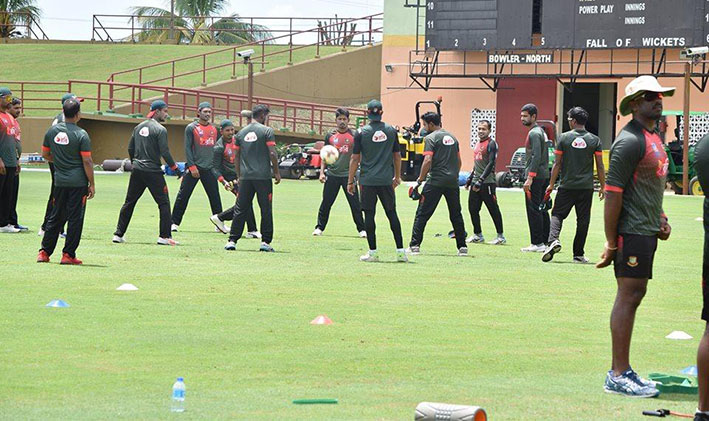 Ahead of the highly anticipated first One Day International between West Indies and Bangladesh at the National Stadium, Providence, today both team captains have expressed confidence in their sides while signaling some minor improvements that are vital to their success.
West Indies skipper, Jason Holder yesterday said "the mood in the camp is pretty good,"
Despite the lengthy down time from the last series where they took part in the World Cup Qualifiers earlier this year,  Holder said "the guys would have played some cricket before that and playing T20 leagues, A team and test matches, everyone has been playing cricket and everyone is ready to go so hopefully we can start the series well." Meanwhile Mashrafe Mortaza, the Bangladesh captain, indicated that the addition of some new faces and the few that joined the set from the Test series will provide a good core.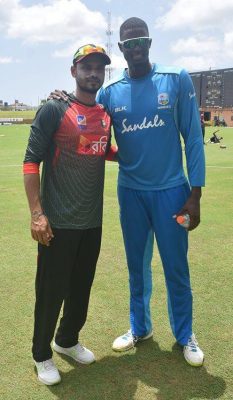 "A few new guys come in and join the side and hopefully we can play good cricket over here. One-day cricket is good for the boys that come and with those who have been here the combination has been good and hopefully we will be on top." Mortaza said.
Holder says his side will be watchful of the opposition, whose side possess some quality players and who has a reputation to upset big teams adding that they deserve their due respect.
He is, however, banking on their homework and execution to do the trick.
"We know they are a better white ball team than red ball, they've got some quality players in their lineup and we just got to plan for them, I think we've done a bit more thinking and planning towards them now it's to go out and accomplish it, execution is a big part of it so hopefully we can execute from ball one," Holder said.
Mortaza was also analytical of the Caribbean boys, noting that they are top heavy while cognizant of their reputation of crumbling when the top order is blown away.
"The West Indies batsmen we all know are top heavy, it's very difficult we have to deal with it but we have to be positive do what we can do, bowl in the right areas and to their weaknesses and let's say we can get them out especially the top order it will be fun," Mortaza  stated.
West Indies have played three matches previously on the wicket losing two while Bangladesh last played here in 2007 at the World Cup but the pitch was lately renovated for the three match series in 2017.
Holder, who had a look at the track said "it seems like a pretty good wicket, last time we played here against Pakistan it held up pretty well and it was high scoring so hopefully it can be the same and we will finalize that combination tomorrow morning."
Holder said it was an expectation to consistently maintain a par score of 300 runs more often than not.
"So we give our bowlers a chance to defend that and in order to get there we got to do a lot better in terms of our rotation of strikes we got power at the middle and once we keep wickets in hand then that power comes into effect," while Mortaza said that it would be good to deal with a score around 260-280.
The West Indies captain suggested that their performance has been impressive of recent but there is still room for improvement in all three areas.
"I think all three departments we got to tighten up on, rotation of the strike in the middle overs is key for us, we fell down in the past there and they got a lot of slow bowlers as well. Our fielding and death bowling is areas I've pinpointed in the dressing room and hopefully the players can go and improve on that from the last time we've played," he added.
In the bowling department, Holder agreed the attack was a young one but with the return of Andre Russell and the likes of hometown boy Devendra Bishoo, coupled with exciting youngsters Keemo Paul and Alzarri Joseph and the skipper himself, it will be a good combination of youth, experience and variety.
Holder said he was optimistic of improved performances from Chris Gayle and Andre Russell following their failure Thursday for the Vice Chancellor's XI against Bangladesh.
"From then to now, Russell and Gayle played a lot of cricket, they've gained more experience and these guys are international world stars…I leave it down to them to play their game and encourage them to play their game as much as they can and I think that the best way forward in formulating our team plans and I think their game plan is fit into our plans hopefully can execute in these three games, Holder said.
Around the Web