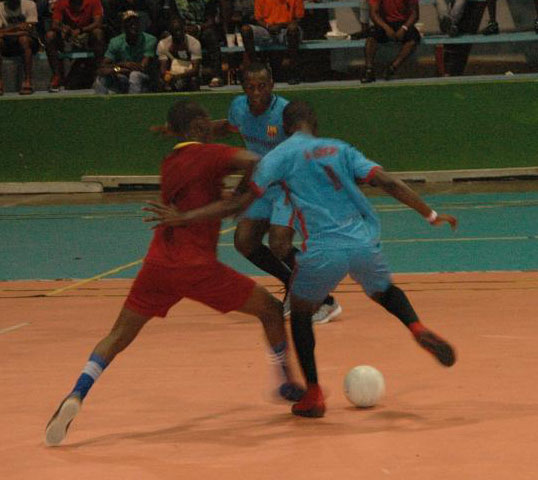 Sparta Boss will oppose Leopold Street and Tiger Bay will battle Back Circle tonight in the semi-finals of the GT Beer 'Keep Ya Five Alive' Futsal Championships following quarterfinal wins Tuesday at the National Gymnasium.
In front of a large and boisterous crowd, Sparta Boss made light work of Showstoppers 8-1. 
It was a clinical performance from the North East La Penitence unit who were led by doubles from Sheldon Shepherd in the 2nd and 11th, Courtney Britton in the 22nd and 24th minute and Dennis Edwards in the 21st and 28th minute.
Adding goals in the third and seventh minute were Gregory Richardson and Jermin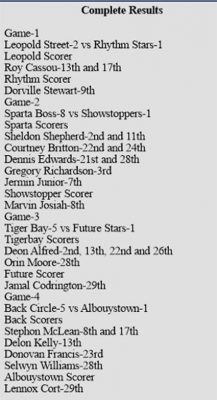 Junior. For Showstoppers, Marvin Josiah scored in the eighth minute. They will now oppose Leopold Street who downed Rhythm Star 2-1. Roy Cassou bagged a double in the 13th and 17th minute. For the losers, Dorville Stewart scored in the ninth minute.
On the other hand, Tiger Bay mauled Future Stars 5-1. Deon Alfred smashed a helmet-trick in the second, 13th, 22nd and 26th minute while Orin Moore scored in the 28th minute.
For Future Stars, Jamal Codrington netted a consolation goal in the 29th minute. Identically, their impending foe Back Circle crushed Albouystown 5-1.
Stephon McLean bagged a brace in the eighth and 17th minute while Delon Kelly, Donovan Francis and Selwyn Williams scored in the 13th, 23rd and 28th minute respectively. For the losers, Lennox Cort found the back of the net in the 29th minute.
Around the Web