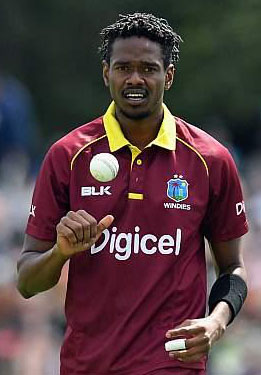 Fresh off being cleared by the International Cricket Council (ICC) to bowl once again, Ronsford Beaton credits turning criticism into motivation for his getting back into the game.
The 25-year-old West Indian speedster was reported for suspected illegal action on December 24, 2017 and was suspended in May from bowling internationally after his action was deemed illegal.
He, however, was allowed to bowl in domestic cricket in the West Indies with the consent of Cricket West Indies (CWI).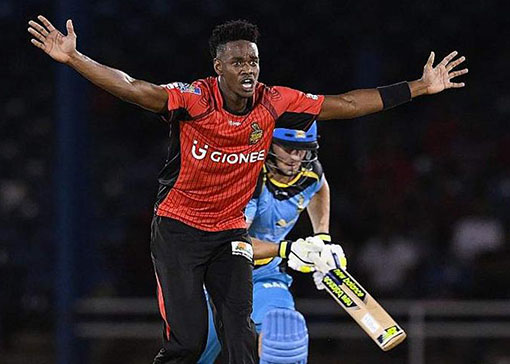 He was cleared on Tuesday with his remodeled action after he was re-assessed at Loughborough University in England, where the amount of elbow extension for all his deliveries was within the 15-degree limit allowed by the ICC. Speaking exclusively with Stabroek Sport, the Essequibo resident said he learnt a lot about life adding that the period amounted to the worst months of his career but said that he was motivated by the criticism and effort from his family and friends to put in the hard work, get the job done and be back out there.
"I wouldn't wish this to any fast bowler," Beaton declared.
"It was the worst couple of months of my cricketing career but at the said time I learnt a lot not only about bowling but about life in general. Talking about bowling, every day at times I felt like giving up but thanks to the people who were around me to push me, my family and friends, that's what kept me going," Beaton said.
Beaton said Fizul Bacchus was someone whom he wanted "to give a special thank you to."
"Even though the people that have the world to say about me and don't know me (GCB president) I wanna say a special thank you to him for saying what he said when I was down but I take that and use it as a drive and a desire to do good so thanks once again but overall it was very challenging," Beaton said.
During the entire fiasco, Beaton was still working hard.
"I was in a West Indies camp for two months working then when I came back to Guyana I was with Neil Barry and Asim Victor at Keztopend gym where I worked on strength and conditioning."
Beaton, who plays for Trinbago Knight Riders in the Caribbean Premier League (CPL), is extremely happy to be cleared and back to doing what he loves.
"First of all I want to give God thanks and praise…most say it's a happy feeling to be cleared I'm back to doing the thing I love and I just can't wait to get out back in the park," he stated.
The Montserrat-born fast bowler says he wants to get back to playing international cricket.
"My main focus is to get back on the international stage," he said adding that he is aware that it will be a process."I guess that will take time so for now I'm just keep working on my action and fitness."
He plans to set his target on the CWI Regional Super 50 where he can showcase his skill, dominate and get back into West Indies colours.
As of being cleared, the Guyanese, who was already with his CPL franchise team doing what he loves, expressed thanks to the owners for having him there and helping during his time of need.
Beaton pointed out that he doesn't see himself 100 percent as yet but is ready to play once called upon.
He has represented West Indies in two One-Day Internationals.
Around the Web