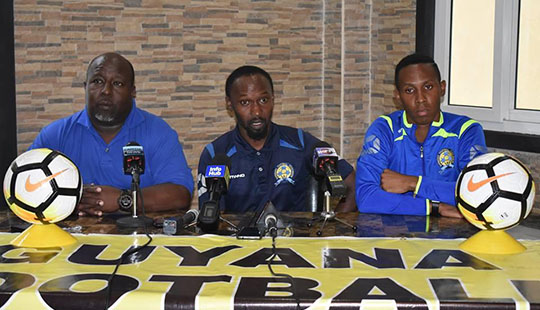 Despite failing to secure a win against Guyana in over two decades, Barbados Senior Men's Football Head-coach Ahmed Mohamed, is bullish over his team's chances of re-writing history tonight in the opening round of the CONCACAF Nations League.
Speaking ahead of their clash penciled for the National Track and Field Centre, Leonora from 19:00hrs, Ahmed, during a press conference held at the SleepIn Hotel & Casino said, "That was yesterday, we are starting from today so today is a different day and at the end of the day, not every day is Sunday alright. The reason why I am here is to change that so we will see that tomorrow night [today]. We are ready for you Guyana and something will happen and something will change."
Barbados last tasted victory against the Golden Jaguars on March 6th 1999 in Bridgetown via a 2-0 score line in the Caribbean Football Union (CFU) Caribbean Cup.  In their most recent encounter in 2015, Barbados held the visiting Guyanese to a 2-2 draw in an International Friendly.  
According to Mohamed, who also possesses the portfolio of Technical Director, "We have a very young team, we know the average age of the Guyana team but I don't really see the difference because my players have been training since two years together now. We played enough games that we cans say we are ready for the Guyanese team. The age doesn't matter, the fact is the team has enough experience to deliver a good performance tomorrow night [tonight]."
Barbados, in their most recent engagement, battled to a 2-2 away draw with powerhouse Jamaica. In that encounter, Mohamed revealed that the squad featured no overseas-based players.
"Nearly the whole squad [is the same] because I played against Jamaica without overseas players and Cuba so now I have three overseas players, the goalkeeper and two from England. Mainly the whole squad stayed together, we had a long preparation time, 13 international games. We played French Guiana, Martinique, St. Kitts and Nevis, Cuba, Jamaica, and Trinidad and Tobago. We have been all over just to prepare for the nation league."
"We didn't know who would be our opponent but we knew they would be a new competition coming into the region so that's why we prepared. Now is the time and now is the kickoff. The team is in good spirits and we are ready," he added.  
Around the Web