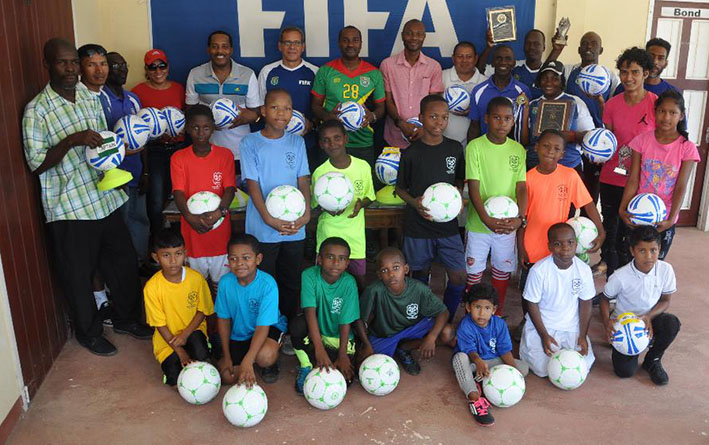 The third annual Ralph Green-sponsored East Bank Football Association [EBFA] Under-11 League was officially launched yesterday at the Timehri Red Ground.
In attendance at the launch were Guyana Football Federation (GFF) President Wayne Forde, GFF Executive Member Dion Inniss, GFF Executive Member and Rupununi Football Association [RFA] Chief Ryan Farias and GFF Head of Coaches Education Wilson Toledo, as well as EBFA Executive Members and sponsor, Ralph Green.   Forde, during the feature address, thanked the sponsor for his continued commitment to the discipline.
"Who keep us employed, who keeps us coming out every single day volunteering our time and our resources, and that is the young boys and girls that are before us," he said.
"You need to dial your attention to the people that we are here to serve which are the young boys and girls that this game will not only improve their ability to play but will improve their chances of succeeding in life," he added.
He went on, "Ensure that you intervene in a manner that would bring value to the work and investment that we are making as a federation and that our partners are making, an example being Mr. Green and our association is making. I want to give this tournament my heartiest blessings, I want to wish every team success, and discipline is the watch word as there would be no loser in this league, everyone is a winner."
Green, in reply,  said that he was pleased to contribute towards the human development of the sport, noting, "It's about character, that character can be built by us the adults; we have to ensure that these youths are able to build positive character which can be shaped by how we as adults carry ourselves and through our behavior. It's not just all about football, we as adults have to set that positive trend; that is my whole emphasis on supporting this initiative."
Each team was presented with two footballs, a technical board, a captain armband, a whistle and 25 cones to aid in their preparation.
Following the conclusion of the registration period, training vests will also be presented to the participating teams, as well as branded playing shirts.
Around the Web