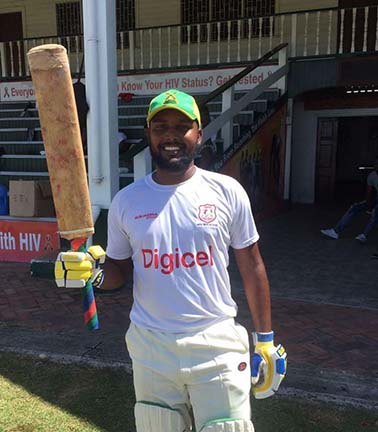 As the Georgetown Cricket Association/New Building Society 40-overs second division tournament enters the final match, Omesh Danram is the top batsman with  Kemol Savory, Alex Algoo and Alphius Bookie also among the chart toppers.
According to the official statistician of the tournament, so far the tournament has recorded five centuries and eight, five-wicket hauls.
Danram, who represents Georgetown in the Guyana Cricket Board (GCB) Franchise League and played for semi finalists, University of Guyana (UG) in this competition, gaps his competition with a total of 285 runs at an average of 40 while Savory and Algoo, playing for Police Sports Club tallied 228 and 218 runs respectively in  Group A.
Demerara Cricket Club's Bookie is the lone batsman in Group B with over 200 runs (208).
Bookie has one of the two centuries scored in Group B, an unbeaten 102 while his clubmate, Raymond Perez, has the highest score in the group with 121. Both came against Sophia as well as Marcus Watkins' 93 for Malteenoes Sports Club.
Savory stroked 146 against the Guyana Defence Force for the highest individual score of the competition while Danram blasted 136 against Police. Transport Sports Club's Sunil Singh has the other century of the group after scoring 113 against Ace Warriors.
UG's Dennis Haywood leads the way with the ball, picking up 16 wickets at an average of 25 with Transport's Kevin Ross chalking up 15 wickets in Group A. Police's Jason Heyliger (13), UG's Dwayne Dodson (11) and Police's Vishal Jaigobin (10) round oout the top five wicket-takers in the group.
Mohamed Ayube of Muslim Youth Organisation (MYO) has the best bowling figures of the group, 6-21 while Heimchan Persaud (Police), Ershad Ali (UG), Ayube Kwame (MYO) all picked up five wicket hauls for 26, 34 and 38 runs respectively.
In Group B, Georgetown Cricket Club's Devon Lord has notched up the most scalps, claiming 13 wickets at an impressive average of just four. Gandhi Youth Organisation's Trevon France equals Lord in the wickets column but averages 11.2. Alvin Castello of Third Class is third with eight wickets while Ashmead Nedd (DCC) and Joshua Wade (GCC) took seven wickets each.
Nedd has the best bowling figures for the group with 6-23 against Sophia. GCC's Keon Joseph who picked up 5-11 and Ryan Shaun of the Guyana National Industrial Corporation with 5-27 against DCC were the only five wicket hauls of the group.
There were a few stand outs in the fielding department with Wade taking the most catches of Group B with seven and Akeem Redman (Transport) taking eight catches and one run out. Linden Austin (UG) has six catches and two run outs for Group A.
The last match of the competition will see DCC battling arch rivals GCC for the title.
Around the Web