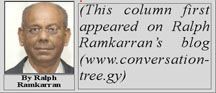 The power of the United Nations Secretary General (UNSG) to refer the Guyana-Venezuela Border Controversy to the International Court of Justice (ICJ, also known as the World Court) and the jurisdiction of the ICJ to entertain and determine the matter, both provided for by the Geneva Agreement, have been shockingly distorted by Analyst in a February 6 article in Kaieteur News entitled 'Recourse to the ICJ is on the basis of a consent regime.' He argues that the ICJ needs Venezuela's consent before it can exercise jurisdiction.
On November 7 the same analyst, under the moniker of Peeping Tom, said in Kaieteur News that Guyana has "bungled its handling of the territorial controversy" and "will not achieve its objective of having the matter placed before the ICJ." This prediction ignominiously failed when the UNSG on January 30 chose the ICJ as a means of settlement. No doubt this failure prompted a change of identification from Peeping Tom to Analyst for his February 6 article so as to disguise his authorship of the November 7 failed prediction. His opinions in the February 6 article are as shallow as the prediction made in his November 7 article.
Analyst argued that the "parties" must agree, that is, give their consent, to the matter going to the ICJ and that Venezuela declared its intention to maintain political negotiation based on the 1966 Geneva Accord. This is what Venezuela's weirdly mystifying statement said: "It is worth wondering what are the reasons that prevailed for recommending the International Court of Justice to two States that do not recognize its jurisdiction, being that the very Geneva Agreement involves the political means for the solution of the territorial controversy." This statement simply makes no sense because it misinterprets Article IV(2) of the Geneva Agreement which is discussed below. ….
To continue reading this article
Comments

The basis of Guyana's political outcomes has remained static for many decades. With deeply entrenched ethnic voting patterns, Indian Guyanese, originally constituting close to 50 per cent of the population, would always have the upper hand.

By Article IV(1) of the Geneva Agreement of 1966, the Governments of Guyana and Venezuela committed to choosing one of the means of peaceful settlement provided for by Article 33 of the Charter of the United Nations (UN), if the Mixed Commission did not arrive at a full agreement for the settlement of the controversy within four years.

The Mayor and Councillors of the City of Georgetown (city council) have voted overwhelmingly to support a renegotiated contract for the establishment of parking meters in certain parts of the city.

The spectacular discoveries of oil in offshore Guyana, with promises of a glowing future, must be tempered with what that future really means and with the realities of today.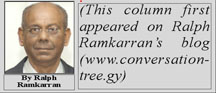 There was a signing bonus. It was known but denied by several ministers of the government.