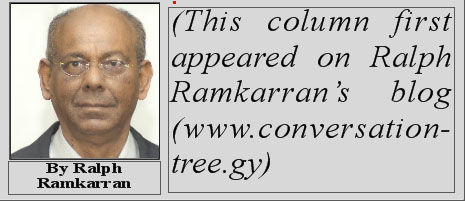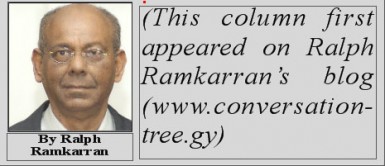 With the production of 500,000 barrels a day for 300 days a year at US$40 a barrel, the annual income would be US$6 billion. The cost of production of oil varies widely, depending on whether it is onshore or offshore and if offshore, how far away and how deep. To give some idea, North Sea oil was produced by BP in 2014 at US$30 a barrel. It went down to US$15 a barrel in 2017 and is expected to go down to US$12 a barrel by 2020. The estimated cost of production in offshore Guyana has not been made known by either the government or ExxonMobil. We are therefore left to speculate.
Assuming that a maximum of about half of the income would be deducted as production costs, US$3 billion would be deducted as production costs from an annual income of US$6 billion. Guyana would earn 50 per cent of the profit, that is, US$1.5 billion plus 2 per cent of US$6 billion as royalty which would add another US$120 million. At minimum, therefore, Guyana's economy would double. More likely than not, Guyana's economy would grow to three times its current size and even more, if the price remains around US$60 per barrel and if more discoveries are made resulting in higher production. ExxonMobil has drilled only eight wells in seven of which oil was discovered. It plans to drill another twenty. There are also other blocks to be explored by other oil companies and other blocks yet to be given out for exploration.
The public debate so far has focused on the terms of the Petroleum Sharing Agreement between the Government of Guyana and the oil companies represented by ExxonMobil. This debate is continuing. Foreign experts have given ideas to public forums as to what pitfalls Guyana should avoid and what preparations Guyana should make, including what skills training should be promoted. Little or no attention has so far been paid to how and where Guyana should deploy its oil income to prepare for the time when the demand for oil and its price will decline, except in broad terms to avoid the Dutch disease. It is not too early to do so as time is not on Guyana's side…..
To continue reading this article
Comments

At the invitation of the Chief Justice, Madame Roxane George-Wiltshire, I made the welcoming presentation on the occasion of the admission of four lawyers to the Inner Bar as Senior Counsel on Friday last.

It is not known whether the post of Commissioner of Police, which has become vacant with the retirement of now former Commissioner, Seelall Persaud, will be advertised to facilitate applicants from Guyana and the Caribbean, or will be 'selected.' President Granger implemented that policy in relation to the posts of Chancellor and Chief Justice, for which he had argued forcefully as Leader of the Opposition.

February is African History Month originally designated to coincide with the birthdays of Abraham Lincoln and Frederick Douglas on February 12 and 14 respectively.

The basis of Guyana's political outcomes has remained static for many decades. With deeply entrenched ethnic voting patterns, Indian Guyanese, originally constituting close to 50 per cent of the population, would always have the upper hand.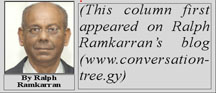 The power of the United Nations Secretary General (UNSG) to refer the Guyana-Venezuela Border Controversy to the International Court of Justice (ICJ, also known as the World Court) and the jurisdiction of the ICJ to entertain and determine the matter, both provided for by the Geneva Agreement, have been shockingly distorted by Analyst in a February 6 article in Kaieteur News entitled 'Recourse to the ICJ is on the basis of a consent regime.' He argues that the ICJ needs Venezuela's consent before it can exercise jurisdiction.