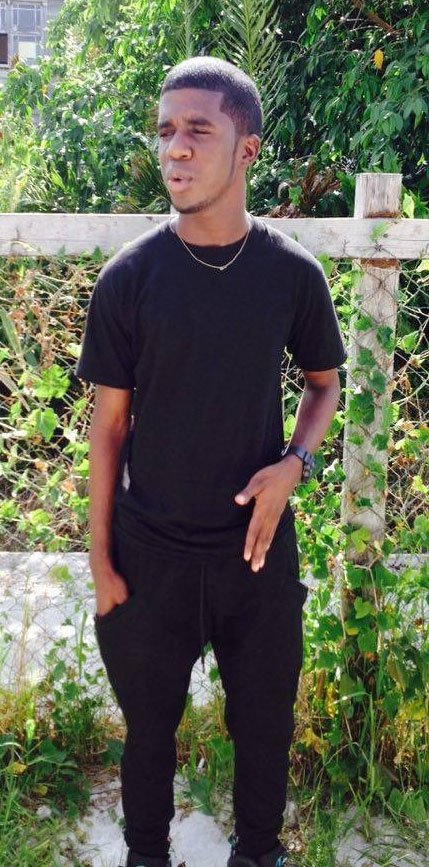 Kareem 'cKush' Lewis's latest song "Another Day" has been blowing up the airwaves on 94.1 Boom FM and 98.1 Hot FM since its release last month. The artiste rose to fame after his song "Karma (Ease Off)" hit Facebook sometime last year resulting in more than a thousand shares which led to airplay.
Kareem's career blossomed from drama while he attended Central High School. "I was a part of the Drama Club at school and we'd perform at concerts. We had two sirs [male teachers] pushing us, they were Sir Colin Haynes and Sir Roderick Gordon. I told Sir Colin one day that I could write, and he encouraged me to do a Calypso song to perform at the concert; in fact, it was time like now, preparing for Mashramani. With the help of two friends we wrote our pieces then made it into a song and sang it," the young singer said during a sit down with The Scene.
That concert was the first time Kareem sang on stage; he had acted before, but he said singing was different.
"The crowd went wild, screaming. I was in Form One at the time and I remember clearly the older children [hoisting] me in on their shoulders and telling me to continue singing. Whenever they wanted the hype in a concert, I was the guy they came to. Their reaction was what encouraged me and made me gain courage to continue singing," he continued.
He recalled that he always hung out with a cousin of his at the time who was on his case to find himself a stage name; he had been performing at various concerts, but he had kept delaying it. It was his cousin who dropped in one day while he was belting out "Kush", who suggested he call himself Kush. After some research, he gave himself the name 'cKush', the c is silent.
Kareem said his research revealed that Kush is "an advanced ancient African dynasty" and there was biblical reference to the Kushites, believed to have been an intelligent set of people. The singer, proud of having African and East Indian ancestry, added that the Mountain of Kush in India is said to have the Indica and Sativa plants (both cannabis) growing wild, which are currently being researched for medicine regarding the nervous system and other diseases. He took all of this into consideration in taking 'cKush' as his stage name.
Kareem writes every day and has done various concerts since he began his music journey as a teenager. One evening, after a performance at 704 Sports Bar, Club and Sky Lounge, he and other artistes went to the seawall where they took turns rapping. It was there that he met artiste Esan 'Breezy' Benzy. They later recorded a remix of Esan's "I Still Cheap". He said he had always liked Hip Hop and when rapping would use Guyanese creole; Esan did this also. Realising that Guyana has adopted genres from other countries they decided to create one that would include the cultures of Guyana. They came up with 'Blnd' (pronounced Blend), which is a fusion of Hip Hop, Soca and Calypso done Guyanese creole style. "Karma (Ease Off)" is of this genre.
Reflecting on where he came from, Kareem shared that there was a time when he crossed all boundaries just to make his own music. "… I'd meet with friends of GTH [G-Town Heroes] back while I attended high school. I think I was in form one or two at the time. It was me, my brother Kishawn and a friend named Jamai. My uncle had a place he had locked up and left and we'd trespass to record our music. My mother was always behind me to study my schoolwork and have nothing to do with music, so I couldn't do this at home," he recalled.
At his uncle's place they took their speaker and phones on which they had downloaded the instrumentals of some of the hottest music. They connected one of the phones to the speaker and played the instrumentals while they recorded their songs on an iPhone 3, which was used as the microphone. But to achieve what was needed, they had to be a certain distance away from the speaker so that our voices would be higher than the instrumental.
"This went on for months until we found out about software called Audacity where we'd record on the computer microphone, but we still went and practiced and recorded at my uncle's place since my mother was really against this. When 'Ease Off' came out on the radio and she heard it, I told her it was my song. At first, she couldn't believe it, but when she did, she [boasted] about it to others," he said.
Kareem noted that his passion for writing was so huge that even while the teachers taught, he was busy writing songs in his book, but they never knew because they assumed that he was doing their work. Somehow, he managed to keep up in class. He added that even today he cannot stop writing; it is something he needs to do, and he writes songs every day. To date he has written more than 500 songs, recorded 30 and has released an average of 12.
The singer/songwriter further said that music for him is life itself and that every time he is allowed the opportunity to perform, he feels he is getting a chance to relive life. "A sense of freedom" was another phrase he used to describe what music means to him adding that it is absolutely the best feeling when he can relate to and connect with his audience. "Music has bettered me in allowing me the opportunity to open up and being real with myself and the world."
And while there are artistes claiming that they deal with many challenges producing their music in Guyana, Kareem feels the opposite. He believes that some artistes create their own problems and if they would only work harder, they would find good opportunities. He also admonished other artistes to cease trying to see what people can give them and instead, to see what they can provide for themselves and the people who look up to them. He said they need to become knowledgeable about what they want to do, how they plan on executing it, the people they plan to get in touch with and no matter what, to keep it original.
Over the years, Kareem has been inspired by Lil Wayne, Al Green, Ab Soul, Isaiah Rashad, Amy Winehouse, Lana Del Rey, Vibz Kartel, Popcaan, Eddy Grant and Dave Martins and the Tradewinds among others.
He said that he is fortunate to have a large support system: Team Charlotte, GTH, Kandy, UDL (Under Dog Legends), Mix Master Tony, all of his friends and surprisingly added his haters. "… At the end of the day whether they say they hate my music, they are still promoting it and any promotion is good promotion."
The young artist is currently working on a mixed tape he is calling 'AOMA' (The Art of Making Art) which is expected to be released soon along with the videos for "Karma" and "Another Day".
Apart from his career as an artiste, Kareem is the CEO of his own online shopping company Authentic Services. He also works along with Jonathan Tailor of Tailored Music Studio.
His hobbies include writing, playing football, 'self-studying', reading and socializing.
His dream is to take Guyana, through his music, to an international level.
Kareem also dabbles in a bit of poetry and sometimes performs at OMG Restaurant. He is expected to be doing poetry at OMG on the last Wednesday of this month.
Last year he won the Best Hip Hop Artiste award at the National Hip Hop and Poetry Slam at 704, a competition held in collaboration with the Ministry of Education.
Kareem is on Facebook as Kareem Kush Lewis, on Instagram @kushtharapper and on Sound Cloud at ckushgth.
Around the Web