On Sunday last, contestants of the I'm A Big Deal Miss Berbice Beauty and Empowerment Pageant put aside the glitz and glam associated with pageantry to team up with the police of Rose Hall Outpost, the mayor, workers of the town council and youths in a clean-up exercise around the Berbice town.
Through the Royston Drakes Production, the initiative was to target youths involved in unhealthy practices with the aim of giving them the opportunity to create positive changes in themselves and in the community.
One of the youths who engaged in the exercise, Steve 'Rudy' Sukaloo, has been incarcerated several times in the past and expressed his gratitude to Police Sergeant Philbert Wilburg for always looking out for him.
"I am happy that I can help my community and I am behaving myself because I was a youth man mischievous and doing a lot of crime with friends but I'm glad like how I come off the street… I hope the other guys who were in my shoe will come out [for] Sergeant Wilburg. I will always big him up because he always put me in the right way although he lock me up a few times which is his work and I know I was wrong and accept it, but thank you," Rudy said.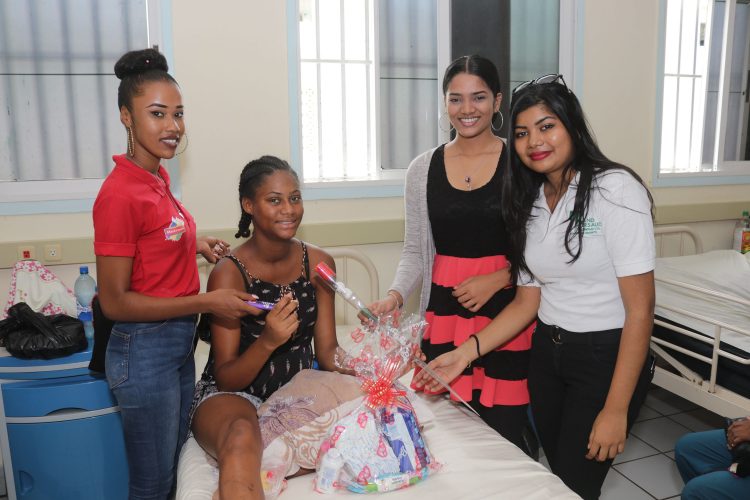 Wilburg said that the police's Social Crime Prevention Programme was delighted to collaborate with such activities and was even more pleased at the turnout of youths. He noted that they want to create a much safer atmosphere for those in the community. The man further added that since youths are more vulnerable to getting themselves involved in crimes, he wants them to know that life has a place for them and it should never be on the other side. The programme, he noted, entails several layouts for 2018 to keep youths positively active and away from a life of crime and drugs.
One of the highpoints of the activity was when youths decided that they will help the police to decorate the outpost in their community.
Mayor Vijay Ramoo applauded the team's efforts as well. "I am elated because I love when people come together and can do community work like this… I want this to be done three times a year, Mashramani, Independence and towards the Christmas season and this might sensitize people to be conscious to keep their environment clean," he said. He added that he was very pleased to have the police onboard.
Meanwhile, on Valentine's Day, contestants presented patients of the Maternity and Children wards at the New Amsterdam Hospital with roses and hampers.
The event was well received by Chief Executive Officer of the hospital Colin Bynoe, who commended the organizers and their partners. He urged that the event become an annual one, while Allisha Rasheed, a representative of Nand Persaud Charity Foundation shared her satisfaction with the initiative and committed to working along with the Miss Berbice team throughout the year on similar ventures.
This exercise was also supported by Integrated Security Service, Extra Beer and Jumbo Jet Auto Sales.
The outreach is among several activities by the Miss Berbice Pageant Team to give back and build stronger community relations in the region.
Drakes hopes that other groups emulate their actions in spreading love, while embarking on activities to create positivity.
The foundation was recently launched to inspire change and help to eradicate social problems.
Since the inaugural I'm A Big Deal Miss Berbice where UG student Farrah Bates won the coveted crown after a strong competition on November 18, last year, the Miss Berbice organization has been making plans to embark on similar ventures.
Around the Web