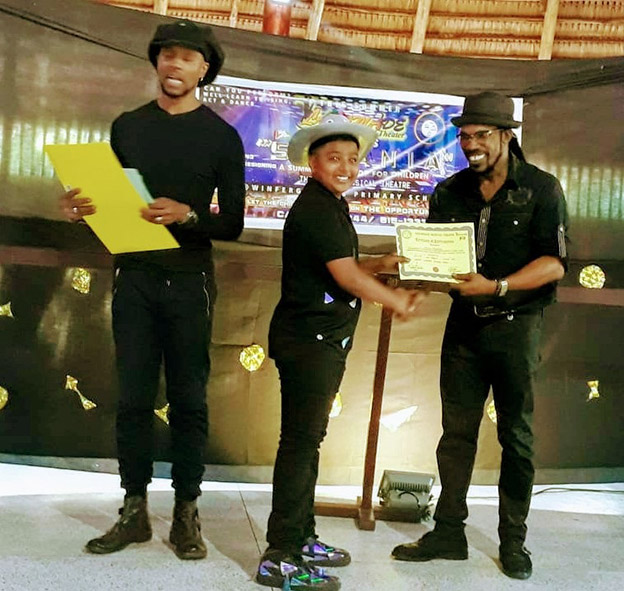 Laramade Musical Theatre Troupe last Saturday wrapped up a one-month musical theatre workshop that saw a number of children in attendance for the month of July during which they were taught theatrical skills in singing, dancing and acting.
Laramade is a New York-based group founded five years ago, which has put on Broadway-style performances in Guyana over the years. The members are all experienced, with each of them boasting more than 25 years in their professions.
The workshop was spearheaded by Launce Northe (director and writer) and Oral Welshman (artistic director and choreographer). They collaborated with costume designer Karen Hughes-Braithwaite who undertook to teach the children costume and mask making.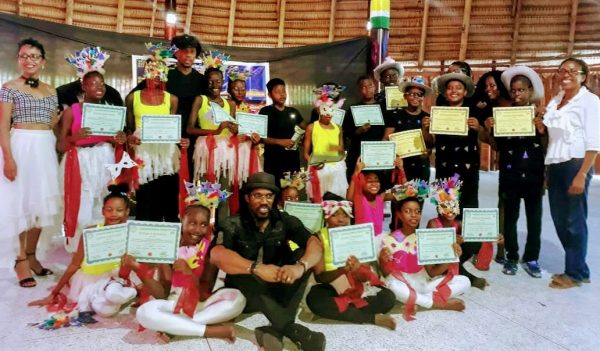 The theatrical workshop ran Monday to Friday (9.30 am – 3 pm) from July 9 to August 3 and catered for children aged seven to 13 years old. The venue was Winfer Gardens Primary which saw pupils and past pupils along with other children in attendance.
Some of the children were sponsored since the course cost $5,000 per person. One of the persons to sponsor a few of the children was Dr Allister Collins, executive officer of the Office of the President who also endorsed the programme.
Speaking to The Scene Launce said, "The children were busy and very enthusiastic. They even wanted us to keep workshops on the weekends. The parents showed great interest also. It really did work well. We thoroughly enjoyed the programme. We like the fact that parents and grandparents were bringing their children diligently and we would like to thank them for their effort."
Theatre, he noted, develops a curiosity in children. While the workshop would have been basically practical, they were given homework to research the history of musical theatre which would have originated in 1927 in the US with the Show Boat Musical. Each child had to choose a musical and tell their bit on it, including who the composers and lyricists were, which year it was debuted and gave a synopsis of it. They were also tasked with knowing why the musical was important in the time it came out and why it still is important today.
The musical theatre team will be taking the programme to New Amsterdam, Berbice this same month for one week. Currently the venue as well as everything else is being organized by art advocate and teacher of Berbice High Shundel Phillips.
Launce expressed his gratitude to those who shared the experience and openly invited sponsors to get on board in affording more children the opportunity come next year.
The 19 children who participated graduated at a ceremony held on Saturday, August 4, at Umana Yana.
Around the Web