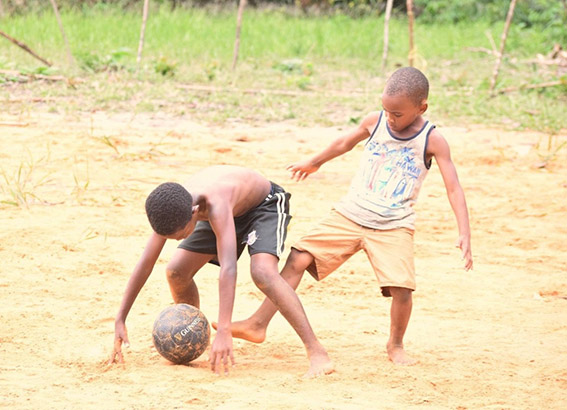 Recently a photograph of two boys participating in the Annual Skipping Competition was posted on Facebook by Jermaine Arthur and it caught the attention of quite a number of persons in the media including well-known photographers. The man behind the camera is certain he is no professional.
Jermaine first began taking photos while working as a reporter. Today photography has become his passion and is his full-time job. He photographs weddings, funerals, graduations and does photo shoots, but has a particular interest in street photography.
His sister assisted him with purchasing his first camera and he started taking photos for persons in Linden. He was still learning about his camera and did not have the vaguest idea what to do.
His struggles with getting to know his camera led him to YouTube Channel and he watched photography tutorials then practiced what he had learnt.
Just to get his name out there and to have more experience in the profession, Jermaine even worked for free and when he was not the official photographer, he still took photos.
A member of the Seventh Day Adventist Church in Linden and the MasterGuide Club he would attend the annual Pathfinder/MasterGuide Camporee held at Loo Creek. Other persons attending the camp were interested in having their pictures taken and soon enough he was uploading his photos on Facebook. This was where he marketed his photos.
Technology he realized was taking over and whenever there was an event that had digital or canvas backdrops, persons didn't bother to pay for pictures and used their phones instead. However, he kept at it. He worked on improving his photography skill and let 'word of mouth' do the rest.
He is continually inspired by the reactions of his customers and others who often let him know that they like his photos while encouraging him to continue. "My family now is my biggest supporters. They go all-out for me," he said.
Usually, a photoshoot costs $10,000 an hour, but because some persons complained, Jermaine dropped his price to $8,000. There are persons who still complain about the cost, but he said his work attracts customers and he is not at all worried. "I try not to make money the reason for working. Don't get me wrong, money is important, but I believe that if money drives you to do something you often find yourself doing mediocre work. It is my belief that once you truly love your craft, whatever it is that you do, it will reflect in the work that you have created whether it's free or paid for. Your quality must always remain of one standard and must always be innate," he said.
Just recently there was a GTT competition where persons were required to submit photos taken in Guyana with the best receiving the prize. However, someone posted a photo that was taken overseas by another photographer. At the time no one knew of it and the person was receiving the most likes, but was later disqualified when it was brought to the attention of GTT.
Jermaine said that for reasons like this it is important that photographers use watermarks on their photos adding that really good software can remove these also and persons should be careful about this.
Photography, he noted, has made him far more focused and has made him a calmer and more patient person. As was mentioned before he finds a thrill in street photography and patience has helped in this because many times to get the shot he is looking for he needs to wait, sometimes for quite a while, before he finds the shot he wants to capture. What he likes about street photography is that the pictures are candid instead of posed. 
Nobody knows everything and there is always more to learn which is why Jermaine intends to take online photography courses to improve himself in the art.
He hopes to in the near future cut out the middleman and instead of having to travel to the city to print photos, he can instead print from his studio which he soon hopes to have. Once he can print for himself he can also take on printing for other photographers in Linden.
Apart from his photography he is either with family or taken up with church activities. In his free time, he plays basketball.
In an admonition to aspiring photographers he says, "Hardworking and determined is what you want to be. Be educated in improving your knowledge and skill and this will improve your standard and will set you apart from all the others."
Jermaine is a University of Guyana Diploma in Communications graduate and he worked as a freelance reporter with the Stabroek News for a short period in 2015 and later with the Kaieteur News.
Jermaine's work can be found on his Facebook page at Diplomatic Photography or at Jermaine Arthur. He can be contacted on 661-5517.
Around the Web