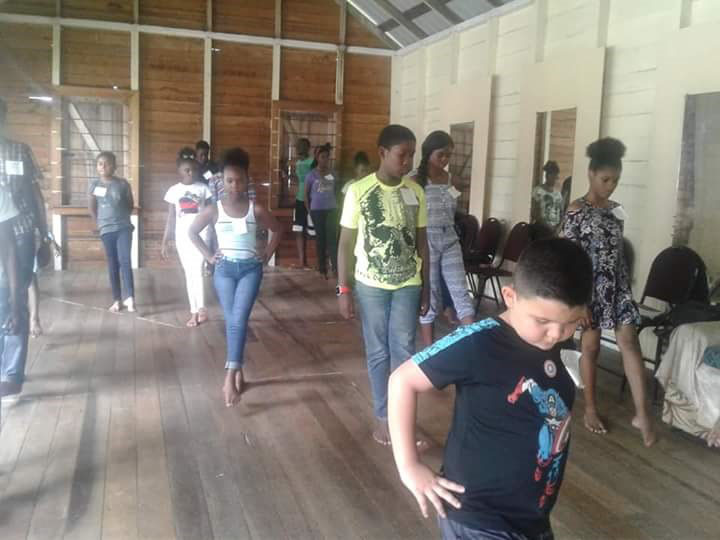 The Theatre Guild Play House will come alive next Saturday, September 1, when participants of the Children's Drama Workshop through Purple Arts Production Company present to the public a packed show of short plays, poetry and dance.
The workshop, directed by Simone Dowding, founding director of Purple Arts Production, is the seventh of its kind; the first was in 2011. Simone, who has acted in a number of plays, holds the award for Best Actress (National Drama Festival 2017); this is the second time she has been awarded the title.
She currently plays the character of 'Aunty Myrtle' in the radio serial drama "Merundoi" and acts as 'Miss Mabel' in "Days Like Dese". Simone who has been an actress for 30 years, has seen how little persons really know when it comes to drama and often when they audition for various roles in plays although they may have a knack for the art, they still have much to learn. Drama is not featured much in the education curriculum and often when children are doing pieces for Mashramani or a school show, it is a play or recital produced through a rehearsal whilst preparing for a show. "Because I never had the opportunity, or the opportunity never presented itself… I thought I'd do something for the children," Simone said.
The workshop has seen the participation of 25 children ages 9 to 16. They were taught the five basic disciplines of drama: acting, directing, playwriting, costume management and stage management. They have also taken classes in proper stage breathing, how to master the art of listening and stage geography. According to Simone, the 25 children have also been exposed to the electronic and print media and have had interviews on the television show "A Better World" with Andrea Joseph and on "First Look" with host Handel Duncan. They also made an appearance on the National Communications Network "Guyana Today" show this past Thursday.
Sydney Henry (Assistant Director) and Delon Cadogan (Assistant Director/Producer) helped with the workshop. Simone mentioned also that a student who is pursuing Communication Studies at the University of Guyana was involved in the workshop, doing an internship.
Simone also explained that the children are so excited and eager they were pleading with her to have classes on Wednesday last when Muslims celebrated Eid-Ul-Adha. The classes have been ongoing since July 7, from Monday to Saturday for the duration of three hours.
The plays that will be put on are: Man Whipped, which was written by the Class of 2013, My History (written by Latifa Agard and directed by Miracle Doorn), Fish Pond (written by the Class of 2014 and directed by Joshua Pires), Suicide (written by Visham Hardat and Latifa Agard) as well as Cry of a Child, a spoken-word piece by Italy Ton-Chung, directed by this year's class.
Simone took the opportunity to acknowledge Nalico/Nafico and Courts Guyana Limited for their assistance in sponsoring the children.
Emerge 7 is scheduled to begin at 6 pm. Tickets cost $1,000 and can be purchased at the door.
Around the Web