Since her recent return to Guyana, designer Pamela Fox has already launched a collection called 'Welcome Summer' at the St Joseph High School Reunion.
When The Scene caught up with the designer, she noted that she was here to stay after living for quite some time in St Thomas, US Virgin Islands.
Pamela has made quite a name for herself in various parts of the world and her two brands, Foxy Jeans and Franjapeni were sold in Barbados, Trinidad, Puerto Rico and the Cayman Islands. Together with her husband, while they lived in Barbados, she ran a factory that made Foxy Jeans. The woman said the Government of Barbados had selected six factories to assist and hers was one; it turned out to be the most successful of the six.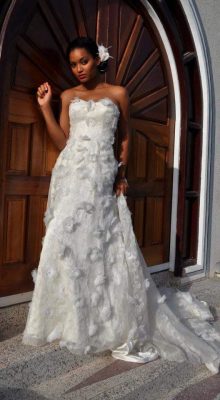 Through the Barbados government she met Olga Geels assigned to her as a designer. "She taught me proper pattern-making and grading. She made all of our samples in size 12 grade it down to a 2 or up to a size 20," Pamela said. Later when her husband's father took ill they closed the factory and returned to Guyana. However, she and Olga remained friends.
Pamela, who has been designing for 50 years, is known for making some of the finest dress designs. In addition to this she also makes sandals and pumps. The woman noted that her exposure to fashion, more so dress making began when she was a little girl living along the Aruka River in the North West District. "My mom made our clothes. She was a homemaker, but she sewed all our dresses and she would make our bloomers [underwear] and she would make our dresses with puffed sleeves," she said.
However, Pamela added that she was always the fashionista and her father was strict, so the dresses had to be kept to a certain length. As soon as he left, she started making her own little elastic dresses that reached to her knees. Laughing, she shared that her father never did catch her. She had always had an eye for intricate details and even the littlest thing in nature was beautiful for her. She made little saucers for her dolls from mud never knowing what ceramics was like and admired the white skeletal veins left from the avocado leaf after it decayed.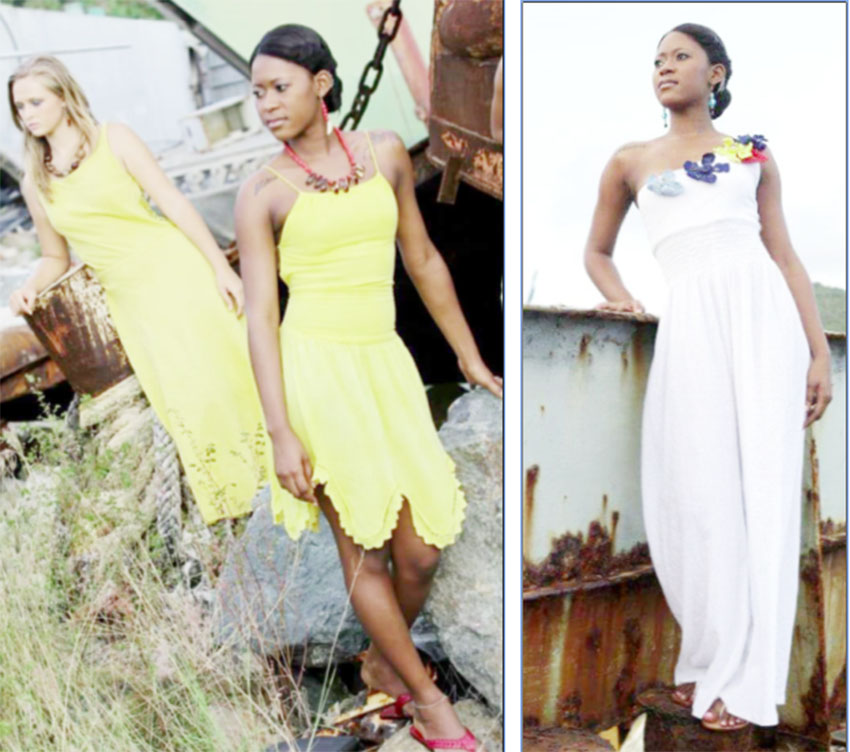 Later, she left her home to attend St Joseph High, she said, adding that securing a such school was considered a big deal and she made her education there a big deal as well. She always topped needlework in her Home Economics class and would often assist her teacher. This helped mould her into the designer she is today, and she is not done learning.
Earlier this week she enrolled in a one-year course at the Burrowes School of Art
where she will be taking evening classes in painting and sculpting.
Reminiscing on the days when she would catch butterflies to make postcards, she gushed that soon when she is even more skilled, she will be making her own greeting cards. She remains hopeful that at the end of the one year she would be an even more rounded designer and artist and hopes to take other courses at Burrowes.
Pamela noted that she always tries to keep it natural when making her jewellery and sandals. In most cases the materials used for her pieces are leather, feathers, and seeds from the awara and manicore plants, fish scales make pretty glittering earrings, and bits of shells are also used. For the seeds, she relies on family and friends travelling from the interior.
Her recent Welcome Summer collection included many crocheted flowers and was displayed by models of all sizes. Prior to this, Pamela took part in the Bernaes Hair and Fashion Week in St Thomas in 2016.
During her time there she also learned to make silver and gold jewellery and now that she is at Burrowes she hopes to soon expand on this.
Pamela can be contacted via Facebook at Business Page Pamela Fox Classics or Pamela Fox or on telephone number: 685-4805.
Around the Web