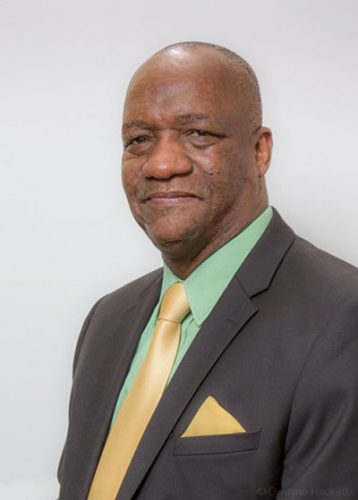 With at least four persons with dual citizenship holding top positions in its government, including Minister of State Joseph Harmon, former Attorney General Anil Nandall says the APNU+AFC coalition should say what it intends to do as it is duplicitous and hypocritical to only  zoom in on Charrandass Persaud's status.
"This is just hypocritical and duplicitous," Nandlall told Stabroek News yesterday.
Referring to an article in yesterday's Sunday Stabroek where Harmon confirmed that he holds dual citizenship, Nandlall lauded  the Minister for his honesty but said that he is one of four persons who sit on the front benches on government's side with dual citizenship.
While Harmon has admitted to being a dual citizen, holding both United States and Guyana citizenship, he would not detail if he travels on the former country's passport or if he would give up that citizenship if called on.
The issue of MPs holding dual citizenship took centre stage once again following a vote by Persaud, then an APNU+AFC parliamentarian, which resulted in the opposition PPP/C's no confidence motion against government being declared passed on December 21st on a vote of 33 to 32.
Following the vote, Persaud, who has Canadian citizenship, solicited the help of the Canadian High Commission and his close friend Peter Ramsaroop to safely leave the country and left using that country's passport.
As a result, a legal challenge has been filed by a private citizen, Compton Herbert Reid, who contends that by virtue of his citizenship disqualifying him as an MP, Persaud was not eligible to vote on the no-confidence motion.
According to Article 155 (1) (a) of the constitution, "No person shall be qualified for election as a member of the National Assembly who is, by virtue of his or her own act, under any acknowledgement of allegiance, obedience or adherence to a foreign power or state."
Nandall pointed out that Harmon would have undertaken "innumerable" duties as a government representative and parliamentarian, where his latter role was so integral to decision making, to reverse them now would be "disastrous".  The same can be said, according to Nandall, of the duties of the high ranking APNU+AFC  parliamentarians.
"One of the most important functionaries in the government, and the person who speaks for the President in the National Assembly is one of those person. At least Mr. Harmon has the decency to admit publicly," Nandlall said.
"Mr. Harmon would have performed innumerable important national functions and would have executed innumerable crucial contracts and made innumerable fundamental appointments to public offices. If one is to challenge all these actions of Mr. Harmon, in the same ground that they are challenging Charrandass' appointment to the National Assembly, the consequences would be disastrous," he added.
He pointed out that the provision in the Constitution which prohibits a person who swore allegiance to a foreign state from becoming a Member of Parliament, has been in the Constitution, possibly, since Independence but every political party has "turned a blind eye" to it and there had never before been any objections. "Of course, this includes the 11th Parliament of Guyana, which have such persons on both sides of the political aisle," he said.
It is only because of Persaud's vote that government has now objected, Nandlall says.
Extracted
"Charrandass Persaud is one of such persons. His name was placed on their list by the APNU+AFC and extracted from that list to sit in the National Assembly by the APNU+AFC. It must be assumed that they knew or ought to have known of his citizenship of Canada and the constitutional implications. After the 2015 elections, they have used Persaud's vote to pass every budget and every piece of legislation since, including the 2019 budget, which was passed in a matter of days prior to the No-Confidence Motion. Indeed, from all their public pronouncements prior to and during the debate of the No-Confidence Motion, it was abundantly clear that they were planning to use Persaud's vote to pass the very Motion. However, when Persaud voted against them, they now want to denounce the validity of that vote by relying on that provision of the Constitution in an attempt to disqualify him from being a member on the ground of his dual citizenship," Nandall asserted.
"So, having agreed to the rules of the game, when they lose, they are refusing to accept the results by questioning the very rules by which they agreed to be bound. This is not only duplicity and political hypocrisy at its worst, but it destroys the possibility of any political force, or indeed anyone, being able to genuinely trust and have any lasting political relationship or alliance of any type with APNU+AFC. It demonstrates their willingness to do anything and everything possible, regardless of its consequences to the welfare of our people and the national interest, to satisfy their thirst for political power. The hypocrisy and duplicity is compounded by the fact that he government has in its ranks more persons who suffered the same disability as Persaud and they are making no discernable attempt to remove those persons as MPs. This only adds to the vulgarity," he added.
But Nandlall believes that government's case would not hold up and if by chance it does, it would mean that all the budgets passed since 2015 to now and all the Bills passed, were unlawful. The implications and consequences of this on the nation, he said, are both "irreversible and immeasurable".
Observers have questioned why government would include dual citizens on their list of candidates, knowing very well that it was unlawful to do so.
When a person is to be a candidate, she/he has to sign a statutory declaration as provided for by the Representation of the People Act. The declaration form, which must be submitted to the Guyana Elections Commission (GECOM), makes no direct reference to dual citizenship. In part, candidates are asked to declare that they are "aware of the provisions of articles 53 and 155 of the constitution with respect to the qualifications and disqualifications for election as a Member of the National Assembly."
In 2015, when this issue was raised, the representative of the APNU+AFC list, Professor Harold Lutchman, was adamant that he had no authority to take any action in such instances. He has said too that he had made no inquiry into such a matter before pointing out that a precedent existed with several MPs in the previous parliament having dual citizenship.
Noting that the issues would best be addressed by the party leader, the law professor said, "All that I did was to sign off on the list agreed to by both parties." He advised persons with objections to take them to court.
Around the Web