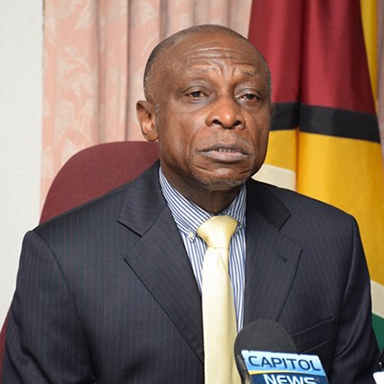 Acknowledging that he has dual citizenship, Foreign Affairs Minister Carl Greenidge yesterday said he has already engaged his attorneys on this matter and is awaiting the outcome of the recent court action filed by a private citizen.
Compton Reid's action, which challenges the validity of former parliamentarian Charrandass Persaud's election as a Member of Parliament (MP) due to his dual citizenship, has raised questions about parliamentarians on both side of the House.
Enquiries made by Stabroek News have revealed that there are a total of seven MPs—four on the government side and three in opposition—who are dual citizens. The two Chief Whips, Amna Ally and Gail Teixeira, are included in this number, sources say.
Greenidge, when contacted, told this newspaper that he has UK citizenship, which he acquired after leaving Guyana as a child.
Asked if he is willing to give up that status, he said "for the moment I'll see what comes out of that [the court matter] but I have in fact been looking at it with the lawyers for some time."
The minister is the second government MP to admit having such a status. Minister of State Joseph Harmon over the weekend admitted to being a dual citizen, holding both American and Guyanese citizenship but he would not say if he travels on a US passport or if he would give up that citizenship if called upon.
According to Article 155 (1) (a) of the Constitution, "No person shall be qualified for election as a member of the National Assembly who is, by virtue of his or her own act, under any acknowledgement of allegiance, obedience or adherence to a foreign power or state."
The issue of MPs holding dual citizenship took centre stage once again following the vote by Persaud, then an APNU+AFC parliamentarian, which resulted in the opposition PPP/C's no confidence motion against government being declared passed on December 21st on a vote of 33 to 32.
Following the vote, Persaud, who has Canadian citizenship, solicited the help of the Canadian High Commission and his close friend Peter Ramsaroop to safely leave the country and left using a Canadian passport.
'Wrong MP'
When Stabroek News contacted Ally yesterday, she declined to say whether or not she has dual citizenship.
"Why would you call me to ask me that ma'am?" she enquired. When told that this newspaper is checking with MPs on both sides of the House to determine who has such a status, she responded "this is the wrong MP you're calling." When pressed, Ally responded, "I am saying this is the wrong MP you are calling. It is not a yes, not a no. Simple English. It is the wrong MP you are calling."
Asked if there is any government MP who may have such a status, Ally, who is the Social Protection Minister, responded, "I don't mind people's business. I don't know anything about that."
This newspaper was told that Public Service Minister Dr Rupert Roopnaraine is the holder of a British passport.
Following Persaud's vote, Attorney General Basil Williams cited his Canadian citizenship as being among the reasons why his vote was not valid. 
Williams has argued that in keeping with Article 155(1), Persaud was not qualified for election as a member of the National Assembly. He, however, has specified that it is not the owing of allegiance to the foreign State by virtue of being a citizen of that country that is grounds for disqualification from sitting in the National Assembly but rather the "voluntary taking of steps to acknowledge that citizenship that causes the disqualification."
Opposition MP Anil Nandlall on Sunday called on the APNU+AFC coalition to say what it intends to do about the current situation as it is duplicitous and hypocritical to only zoom in on Persaud's status.
Nothing to hide
On the opposition side, this newspaper was told that aside from Teixeira, MP Odinga Lumumba has dual citizenship.
Teixeira could not be reached for comment yesterday.
Lumumba expressed uncertainty as to whether he has dual citizenship and assured that he will make enquiries and provide the information later in the week.
"I have to check," he said.
Asked whether he will give up his foreign citizenship if he does have a status, he said, "I got to talk to my family. I know that the law [says]. The judge ain't rule…"
He added that he would await the outcome of the court matter, while stressing that he wants to be guided by the law. "I have to check, then I gon' wait on the law. I have nothing to hide, I will tell you," he further said before stressing that whether or not an MP has dual citizenship should not be a secret. "I will tell you the truth I can't hide it," he said, while noting that the court has to interpret the law and that interpretation will be used as a guide.
Presidential candidate of the Liberty and Justice Party (LJP) Lenox Shuman on Saturday announced that he will be giving up his Canadian citizenship to vie for a seat in the National Assembly.
"Because of a firm commitment to making a difference in Guyana and as a parliamentarian who swears to uphold the Constitution of Guyana, my first act cannot be to break the law," Shuman said during the party's launch which was held at the Georgetown Club.
He also said that having dual citizenship with the United States is not possible as by swearing allegiance to the US a person would have given up their Guyanese citizenship.
This newspaper was told that of the seven MPs who are dual citizens, four have US citizenship.
When a person is to be a candidate, he or she has to sign a statutory declaration as provided for by the Representation of the People Act. The declaration form, which must be submitted to the Guyana Elections Commission (GECOM), makes no direct reference to dual citizenship. In part, candidates are asked to declare that they are "aware of the provisions of articles 53 and 155 of the constitution with respect to the qualifications and disqualifications for election as a Member of the National Assembly."
GECOM has distanced itself from the responsibility of determining which candidate has dual citizenship. In fact, an official has explained that that responsibility lies with the candidate as it is him or her who has to make the declaration.
The representative of the APNU+AFC list, Professor Harold Lutchman, in 2015 was adamant that he had no authority to take any action in such instances and that it was a matter to be taken up with the party leaders and for the relevant authorities, including the president, to take action.
In 2011, before Nomination Day, commentator  Christopher Ram wrote to the then Chief Election Officer Gocool Boodoo to highlight this very issue and he cited article 155 of the Constitution.
"I am assuming that the Leader of each Party's List of candidates for the national elections as well as you in your capacity as Chief Election Officer are not unaware of the clear import and intent of these provisions and in particular Article 155 (1). It is my view that there is a serious obligation on your part to verify that the eligibility requirements are satisfied. You should be aware too that while there might have been breaches in the past, this cannot justify a continuation of an unconstitutional violation in such an important matter," Ram had stated.
Attorney Rafiq Khan, in a letter published in this newspaper in April, 2015, had made it clear that he was not going to be casting a vote given that the respective lists were replete with persons who hold citizenship in other countries.
"Yet I regret that I will not be exercising that right or duty come May 11, 2015. My reason has nothing to do with the ability or inability of any of the contestants to properly govern the country. My reason is based purely on a matter of principle as I perceive it. I refuse to be an accomplice to or complicit in the perpetuation of what I regard as a constitutional illegality in this country," he wrote.
He cited cases in Trinidad and Jamaica where the court upheld the constitution, saying that persons holding dual citizenship were disqualified from sitting in the legislative arm.
"For too long many of our laws have been honoured in the breach. It is particularly egregious when persons who, smugly holding aloft in their faith, are going to swear to uphold the Constitution and the laws of Guyana, are themselves in blatant breach of the constitution.   That is hypocrisy," he said.
Reid, in an urgent fixed date application, has argued that by virtue of his Canadian citizenship, Persaud is a person who, by his own act was under an acknowledgement of allegiance, obedience and adherence to a foreign power and therefore not qualified to be elected a Member of the National Assembly of Guyana and had no legal right to vote as an elected member of the National Assembly of Guyana.
The case will be heard by Chief Justice (ag) Roxane George-Wiltshire for the first time today.
Around the Web