Aerial shots of what appeared to be remnants of an oil spill in the Essequibo River has turned out to be huge beds of sargassum seaweed which is now a major nightmare for fishermen.
The influx of seaweed has put a serious dent in the fishing industry, as fishermen have been forced to cut short their trips at sea with just small catches.
It has invaded coastal waters since February and is expected to be present for another two months.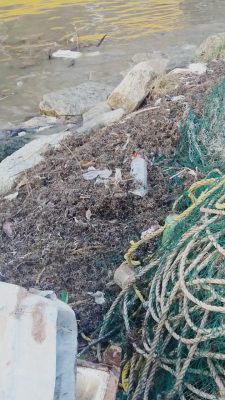 Fishermen, who fish in the Essequibo, Berbice and Demerara rivers, are affected by the natural disaster, with the moss getting trapped in their seines and engines, causing damage.
According to a fisherman from the Essequibo River, "We invest money and go out to sea to earn we living, but instead of catching fish, we catching seaweed. Then we take a long time to clean out the seine."
Sadly, the fishers are aware that there is nothing that can be done to prevent this. "It's Mother Nature, nobody is causing it. We just praying that it would go away soon," one said.
The aerial shots of the seaweed showed what appeared to be a brownish substance on the surface of the water which looked like traces of oil. Such photographs were sent to environmentalist, Annette Arjoon, who shared them on her Facebook page on April 2.
She wrote, "What appears like an oil spill off Hampton Court and Leguan yesterday: It would be good to have its origin verified." She later updated the post saying, "Our Coast Guards are on their way."
In the comments on her Facebook page, there was speculation that it could be an oil spill, but a fisherman named 'Dave' of Stanleytown, West Bank Demerara, commented that it was actually sargassum seaweed.
He had just returned from a fishing trip off the coast of Leguan and had dragged "hundreds of pounds of the moss" that was entangled in his seines, back to shore.
Arjoon later posted that the coast guards had confirmed that it was indeed the sargassum seaweed.
In an interview with Stabroek News, Dave, (only name given), who is the owner of several fishing boats, said he and two workers left home around 4 am on Monday last but the seaweed forced them to abandon their operation after a few hours with just a small catch.
They were unable to return to sea for the rest of the week since they had to wait about four days for the seaweed to dry to start clearing it off.  Apart from that, he also spent a long time untangling the seines.
The seaweed invasion is said to be as a result of global warming, as they thrive in warm water. According to Dave, the moss would usually disappear when the water becomes cold.
He also believes that the extremely rough waters has caused the seaweed to enter Guyana, either through Brazil or French Guiana.
He has suffered skin irritation and rashes from being exposed to the seaweed and had to seek treatment.
The moss first started showing up here about four years ago but the amount has drastically increased this year.
Dead fish floating
The fishermen also said that a lot of small fishes end up dying after they become trapped in the seaweed and struggle to free themselves. They would see the dead fish floating in the water daily.
One fisherman also said he believes turtles are dying as well after they become trapped in the seaweed.
Contacted, Arjoon, who is the head of the Guyana Marine Turtle Conservation Society, said she is unaware of any turtles dying. She said once the information is validated, she would have it checked out.
To avoid the seaweed, Dave said most of the fish would migrate deeper out in the sea. This is also one of the factors contributing to fewer fish being caught.
It would take about two days to get to the fish but Dave, who captains the boat, would not risk going there because of the "extremely rough water."
He pointed out too that it is very frustrating when the engines get caught in the seaweed. The propellers become damaged and he has to pay $7,000 for a "quick fix."
Though the seaweed encounters are very frustrating and are resulting in a serious economic crisis, Dave is determined not to give up.
According to the fisherman, he now pays his workers less than half of the money they were receiving per trip. He also laid off two workers because he could not afford to pay them.
He keeps on sending his boats out to sea with the hope that one day the seaweed would disappear and fishing would be back to normal.
But for some fishers, they prefer not to work because they were "running at a loss." They have left their boats partially submerged in the water and have temporarily sought other means of earning an income.
Another owner of fishing boats, Sursattie 'Lily' Chanderpaul, of Meten-Meer-Zorg, West Coast Demerara, said the seaweed has caused her to suffer major financial losses.
She lamented that instead of paying her workers to go out to sea and bring in an income, she has to pay them to remove seaweed and untangle her seines.
"The seaweed tear up my seines… One boat couldn't go out to work for a whole month…Sometimes (when) the boats should come in with fish, they come with a lot of seaweed and you can't even see the seine," she related.
Her boats would ply the Essequibo River, spending about five to six days but when the seaweed gets trapped in the seine, they have to return much sooner.
Fishermen from Berbice who ply their trade in Suriname's waters, said they too are facing challenges with seaweed.
This newspaper caught up with a few of them as they were clearing their seines in front of the No 66 Fish Port Complex on Saturday morning.
They expressed disgust about the many encounters they are having with the seaweed and said they are suffering "serious blows" because of it.
A boat captain, 'Satish', said they would normally spend two weeks out at sea but during a recent trip, they had to return in less than one week.
"We didn't even catch the amount of fish we would usually get. That is very hard when you have all that expenses and have to make so much effort to go in the sea and this happen," he said. For one trip they would catch about 400 [big] fish of different types but because of the moss, they "barely get about 30 snappers," he added. 
Some of the fishers in the Demerara area said they are also having a hard time selling the little fish they catch and would end up giving away most of it.
Meanwhile, the seaweed has been washing up at various shores, including  behind the Marriott Hotel and by the Kitty seawall, emitting a pungent smell.
Around the Web