Representatives of the majority-state-owned Brazilian oil company, Petrobras yesterday presented a five-year strategic plan for Guyana's oil and gas industry, which includes technical assistance, export and import services and training, according to a statement from the Department of Public Information (DPI).
The plan was presented to Minister Dawn Hastings-Williams, under her new portfolio as Minister of State, during a courtesy call in the Ministry of the Presidency's boardroom, DPI said.
Petrobras has been riddled with serious corruption in the last few years and the government here has been warned to proceed with extreme caution in relations with the company.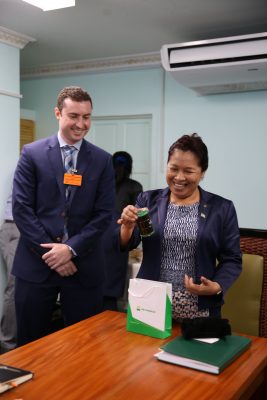 In September last year, Petrobras was hit with a US$853m fine. The probe stemmed from a bribery scheme at the firm, which involved millions in payments that were concealed from investors and regulators.
The payments were facilitated by executives at the "highest levels", including the firm's board, the US Department of Justice had said.
Hastings-Williams told DPI that the talks between the corporation and government have been quite fruitful and promising.
"We [the Coalition government] are interested in having many countries come on board around this shelf of exploration and production of oil. As you know, oil production is bigger than bauxite, gold… this is not to say the country's other natural resources will be pushed aside; it just means that we must be extremely careful," she added.
Head of the Department of Energy, Dr. Mark Bynoe, who was present at the meeting, said government welcomes Petrobras's support.
"We are like you; we have a vision, a strategic plan in terms of where we are going… currently we have a road map and we trust that over time we begin to enhance our own capacities through buying in third-party expertise  and then Guyanese expertise moving forward as minister indicated with training," the Head of DoE said.
He noted that despite the current challenges concerning the oil and gas industry, Guyana hopes to establish a concrete plan that will benefit its citizens. 
It was stated  that Guyana has thus far benefitted from more than $16B (US$75M) directly from the oil and gas sector.
Around the Web