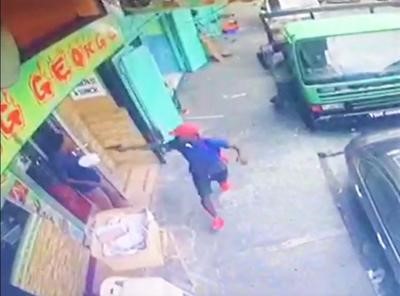 (Trinidad Express) A man stepped out of a store Price Street, Port of Spain on Tuesday afternoon and was shot twice by a gunman who chasing another man.
The victim, Gerald Hendrickson, 54, is critical condition at hospital.
The shocking and disturbing crime was captured on CCTV.
Minutes after the incident, police detained a suspect on Nelson Street and he was being questioned last night and his home searched.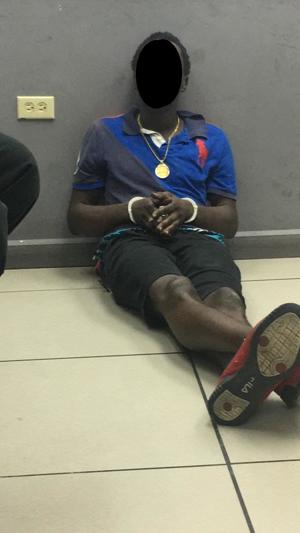 The suspect in custody
Police said that around 2 p.m., Hendrickson, who lives in Diego Martin, was stepping out of a store at when a gunman was seen running after another man.
A video of the incident showed a man in a red shirt and blue three-quarter pants being pursued by a man wearing a red cap, blue shirt and blue pants.
The man in the red shirt darted into a store on Prince Street and the gunman fired in his direction before running past Hendrickson and shooting him, for nothing.
Clutching his side, Hendrickson slumped to the ground.
Police on foot patrol along Charlotte Street were the first to respond, but by that time Hendrickson had been taken to Port of Spain General Hospital.
Police officers found 14 spent shells and one live round.
Around the Web