Three years on, Ricky Jainarine's mom still hopes he will be found
Three years after her husband died and her son, Ricky Jainarine, disappeared following a boat collision on the Essequibo River, Salimoon Rahaman is still trying to pick up the pieces.
"I keep thinking everyday that one day I gon see Ricky," she told Stabroek News. The last time Rahaman saw her youngest child, he was leaving their Hog Island, Essequibo River home with a neighbour to collect his father, Jainarine Dinanauth, at Parika.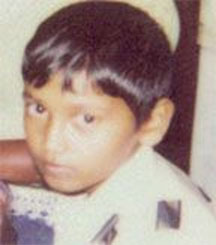 It was late afternoon on August 11, 2009 and in their tiny speedboat, Ricky, then 10 years old, and the neighbour, Henry Gibson, picked up Dinanauth and headed home. The next morning, the bodies of Dinanauth and Gibson were discovered in the shattered boat. There was no sign of Ricky.
Rahaman scoured the Essequibo in search of her son in the weeks following the incident but her searches failed to yield any sign of him. Police arrested no one but there were suspicions that rogue coastguards were involved.
Since then Rahaman had clung to the hope that her son was alive. But, she told Stabroek News, the incident has affected her badly and she does not remember things "like before" and suffers from headaches. "Ricky would have been 13 years now," she reminisced recently.
Rahaman said that she endured hard times and has moved away from Hog Island and no longer farms. She is also involved in a new relationship.
But still the memories endure and she thinks about the incident every day, she said. "I believe that dey take he away.
I never had the feeling that Ricky is dead. It's a sad story to live with," she said. Rahaman said that she also has not heard from the police.
Following the boat collision, paint samples found on the vessel were taken and tested. Suspicions were raised that rogue coastguards were involved.
Rahaman had said that despite tests finding that the paint samples on the coastguard boat did not match the boat her husband was in, she still has her suspicions about the coastguards, who have since been arraigned in court on several charges, including murder, in another matter.
She had said that she wishes that the authorities would continue to investigate the matter.
Relatives had surmised that the rogue coastguards had rammed the boat, robbed the men and killed them. A Guyana Defence Force investigation was "inconclusive" but it also found that the coastguard boat was on the river around the same time as the boat the trio was in.
The blue paint samples from the coastguard boat were handed over to the police for testing but police said the paint samples did not match.