PNCR commemorates tenth death anniversary of Hugh Desmond Hoyte
The PNCR remembered the life and work of former president and party leader, Hugh Desmond Hoyte at a commemoration ceremony on Saturday at the Seven Ponds, Place of Heroes, in the Botanic Gardens, a release from the PNCR said.
Desmond Hoyte, born in 1929, died in 2002, served as President from 1985-1992.  The early morning ceremony was chaired by PNCR Member of Parliament, Ronald Bulkan and was addressed by Shadow Minister of Economic Affairs, Carl Greenidge.  Both Bulkan and Greenidge credited Hoyte with introducing a visionary economic recovery programme.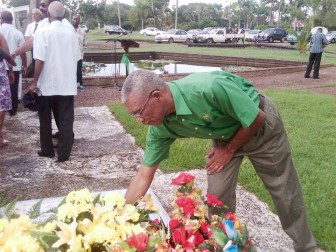 Patricia Hoyte, sister of the former president; Sase Naraine, former Speaker of the National Assembly and Roshan Khan, managing Director of RK's Security Services were among the attendees.  PNCR leader, Brigadier David Granger and other officials laid floral tributes, the release stated.