North Korea confirms mystery woman is leader's wife
SEOUL,  (Reuters) – North Korea's new young leader, Kim Jong-un, is married, state media said on Wednesday, putting an end to speculation over the relationship with a woman seen at his side during recent events.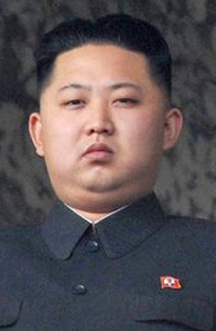 The announcement, which fits a trend the upbeat Kim has followed to break out of the dour management style of his late father, Kim Jong-il, came just two weeks after he was seen at a gala performance accompanied by the woman, with rumours swirling as to whether she was his wife, lover or sister.
"Kim Jong-un's move appears to give the youth hoping for change, especially young women, a favourable impression of him although it can make conservative old North Koreans uncomfortable," said Cheong Seong-chang, a senior fellow at the Sejong Institute think-tank.
"Although Kim Jong-un continues a one-man dictatorship, he is expected to have a more open attitude in culture than in the Kim Jong-il era."
Some observers in South Korea speculated she was a singer, Hyon Song-wol, he dated years ago before his father put a stop to it, but who was now back on the scene.
But the North Korean state broadcaster named his wife as Ri Sol-ju, without giving details. It is not clear when the two tied the knot.
South Korea's Yonhap News Agency said she had been a member of a troupe of performance artists and had received etiquette training for about six months before taking on the role of first lady, quoting a source familiar with the state's inner workings.
Recent TV footage showed the two laughing with each other, touching a child's hair together and clapping while watching a performance featuring western show tunes and Mickey Mouse.
"While a welcoming song was playing, our party and people's supreme leader, Marshal Kim Jong-un, came out from a ceremony of the completion (of a 'pleasure ground') with wife, Ri Sol-ju," it said.
Kim, in his late-20s, took over the family dynasty last December with the death of his father, whose rule took North Korea deeper into isolation, abject poverty and large-scale political repression.