Captains, match officials briefed ahead of Queensway final
By Neil Barry Jr.,
The Georgetown Cricket Association (GCA) yesterday held a pre-match briefing with the captains and coaches as well as the officiating umpires participating in the Queensway Cup final which will be held today and not yesterday as was previously reported.
Demerara Cricket Club captain Christopher Barnwell, Georgetown Cricket Club captain Leon Johnson, umpires Eddie Nichols, Nigel Duguid and Shannon Crawford and the respective coaches Garvin Nedd and Monty Lynch were all present at yesterday's briefing which was chaired by former Guyana middle order batsman Mark Harper.
Harper duly led the panel into discussions pertaining to the regulations in place for the final.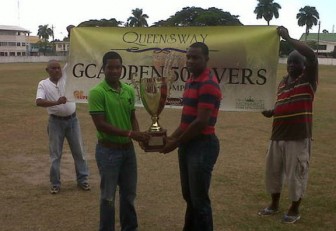 The briefing was also staged to ensure all relevant parties are au fait with rules, and to ensure the game is played within the correct spirit.
In wrapping up the discussion, Harper stated that he expects a keenly contested final to be played hard and in good spirit with quality umpiring. He also said that the final presents a good opportunity to showcase the talent in Georgetown and concluded by stating that cricket should be the final winner before wishing both teams well. The match commences promptly at 9:30 a.m.