Guyana in tough assignment against Trinidad
Guyana women's hockey players face host Trinidad and Tobago tough assignment in one of three matches on the opening day of the International Hockey Federation (FIH) World League round one today at the National Hockey Centre at Tacarigua, in the twin island republic starting at 3 p.m.
Both teams will be going all out for a winning start in the in the six-nation playoff which serves as a qualifier for Hockey women's world cup.
Trinidad and Tobago ranked 27th in the world and current holders of the Central America Caribbean title will be fancying their chances against the Guyanese side ranked 58th by the FIH after having played to a 1-1 draw with Canada in a warm up match earlier.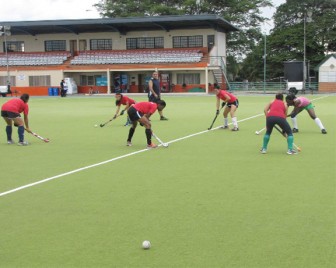 Guyana's 18-member squad left here Friday and had a training session at the match venue.
English based Chantelle Fernandes will captain the Guyana which will be chosen from  Alysa Xavier, Natalie Hing, Ulrica Sutherland, Tricia Fiedtkou, Tiffany Solomon, Maria Munroe, Trisha Woodroffe, Vanessa Pires, Marzana Fiedtkou, Leigh Sandison, Ashley DeGroot, Sonia Jardine, Gabriella Xavier, Cora Towler, Kerensa Fernandes, Avonda James and Samantha Fernandes.
Philip Fernandes is the coach while Rawl Davson is the manager.
The Trinidadians will have in their line up skipper Alana Lewis, Blair Wynne, Sekayi Liburd, Kristin Thompson and Yesenia Lyces.
The other competing teams in the tournament which run until next Saturday are Canada, Barbados, Uruguay and Venezuela.
Canada and Venezuela clash will kick off the tournament at 1 p.m. while the final game of the day will see Barbados taking on Uraguay.
The World League is split into four rounds that last over a two-year cycle. For one cycle, the World League will serve as the qualifier for the World Cup and in the next cycle it is the qualifier for the Olympics.
Three teams will advance to the next round.