Guyana, Venezuela battle to 1-1 draw at World Hockey League
Guyana and Venezuela battled to a 1-1 draw in their final match of the Hockey World League women's first round yesterday at the National Hockey Centre in Port of Spain, Trinidad.
Venezuela scored a field goal in the 25th minute when Genesis Sanz found the back of the net but Guyana equalized four minutes later when Gabriella Xavier scored in the 29th minute from a penalty corner. It was Xavier's second goal in the tournament after she scored against Trinidad and Tobago earlier in the week.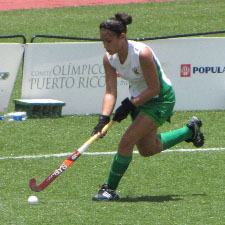 The Venezuelans however placed fourth with five points having won a penalty shootout 2-1 to determine the places.
Guyana finished fifth with three points.
Canada won the six-nation tournament with 15 points with Uruguay securing second with 12 points and have now advanced to the second round of the World League.
The results of the Trinidad and Tobago /Barbados clash were unavailable up to press time but the Trinidadians have already secured their spot to the next round after Venezuela failed to beat Guyana.
Guyana also drew 1-1 against Barbados.