Golden Jaguars defeat French Guiana 4-3
By Emmerson Campbell
Guyana's Golden Jaguars ended its Caribbean Football Union (CFU) Cup campaign with a wildly entertaining 4-3 victory against French Guiana last night at the Grenada National Stadium here in St George's.
Goals by Vurlon Mills (12th minute), Clive Nobrega (46th minute) and a double Shawn Beveney (56th and 88th minutes) made sure the Jaguars ended the tournament on a positive note after losing their previous Group Six games to Haiti and the host.
Stanley Ridel recorded a double (34th and 63rd minutes) while Marc Edwige (91st minute) chipped in the other goal for French Guiana.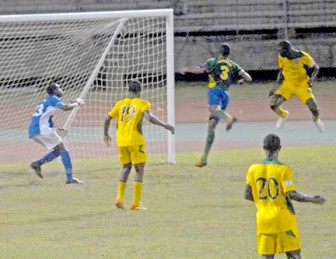 Mills scored off of a right-foot shot just outside the six-yard box after he received a perfect pass from Walter Moore.
Trayon Bobb's header in the 30th minute could have further increased the score line but it was brilliantly saved by custodian Jean Petite Homme.
Ridel scored after local keeper Derrick Carter sent a soft errant pass that rebounded off of right back, Kester Jacobs' foot and landed into his path inside the box.
Both teams battled and traded shots but the scored remained at 1-all heading into half time.
Guyana and French Guiana came out aggressively and the Jaguars were rewarded first after Nobrega put the locals up one minute after halftime by slamming home an assist from Beveney.
Beveney was then the recipient of a pass from Mills that he headed in to give the Jaguars a two-goal advantage in the 56th minute.
Seven minutes later,Ridel again found the back of the net after he breached the defence and easily tapped the ball into the open goal.
After Mills was fouled inside the box, Beveney seemed to ice the game by  burying the penalty to put the Jags up 4-2 but Edwige scored off a free kick from 30 yards out one minute into injury time to provide some more drama.
Haiti and French Guiana are the two teams out of the group that have  qualified for the finals in Antigua next month.
In an invited comment, Jamaal Shabazz stated that he was proud of the way the younger players stepped up earned a victory.
Charles Pollard led the team in Chris Nurse's absence while  Mills was a late replacement to the starting line up after he missed his flight to Trinidad.
Guyana's starting 11 was Pollard(Captain), Mills, Bobb, Jacobs, Moore,Carter (goalkeeper), Jake Newton, Beveney,Nobrega, Nicholas Millington and Daniel Wilson.
French Guiana's 11 was Ridel, Petite Homme, Jean Claude Darcheville (Captain), Marvin Torvic,Eric Martinon, David Martinon, Serge Lesperance, Warren Choune, Raymond Jacques, Gary Pigree and Samuel Sophie.